Whether you're packing your Apple gear for business or pleasure, our expert tips can help
As Memorial Day and summer vacations approach, the travel season is just about to heat up. But you don't have to resign yourself to hefting unnecessary equipment through airport security or sweating out the frustrations of hotel computer connectivity. These veteran travel tips can make traveling with your Apple gear much more fun.
1. Ditch your laptop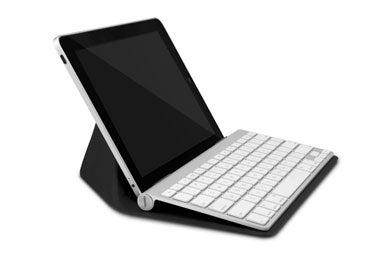 A lightweight stand like the Incase Origami Workstation can make it easy to use a wireless keyboard with your iPad and leave the laptop at home.
If you don't want to lug your laptop with you on a trip, consider bringing an iPad (or even an iPhone) along with a Bluetooth keyboard such as the $69 Apple Wireless Keyboard and a lightweight and compact iPad stand such as the $30 Incase Origami Workstation, Michiel Cornelissen's $20 PadFoot, or the $18 Arkon iPad Travel Stand. That way you can answer e-mail and do other keyboard-intensive things without the extra weight of a laptop.
Using the $39 Apple Digital AV Adapter or the $29 Apple VGA Adapter, you can even use the iPad to give Keynote presentations.
2. Make your own Wi-Fi
If the hotel where you're going to stay doesn't have wireless connectivity in the room, consider bringing a $99 Apple AirPort Express along. You can attach it to the wired Ethernet and then use it to transmit a Wi-Fi signal, so you can use your laptop, iPhone, or iPad from anywhere in the room. As a bonus, you can also use the AirPort Express's USB port—designed to let you connect a printer—to charge an iPhone or iPod (though not an iPad).
Optionally, if you've brought a laptop and have an additional wireless device—an iPad, for example—create a wireless network on your Mac that you can then share with your iPad.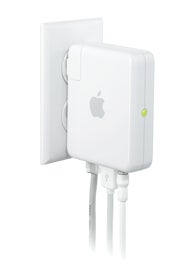 Bring along an AirPort Express and you can set up a Wi-Fi network in your hotel room.
4. Use 3G when Wi-Fi is too slow
Even when hotels provide free Internet access in the room, that access is often horribly slow. If you have an iPhone or iPad with 3G with you, consider using its 3G connection as your access point rather than the hotel's broadband. You may discover that it's faster than what the hotel delivers. If you have a Bluetooth tethering plan, all the better. Use it to connect your laptop to the Internet.
3. Skip the hotel pay-per-view