14 big data certifications that will pay off
Data scientists and data analysts as well as engineers and developers with the skills to work with big data technologies are in demand and well-compensated. Want an extra edge looking for your next job? Get big data certified.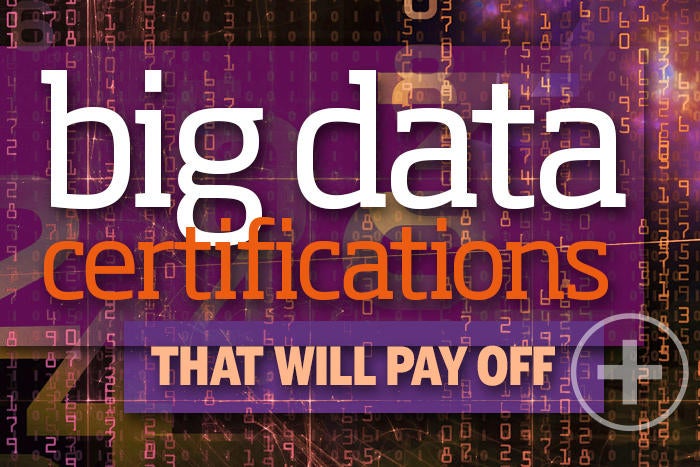 Credit: IDG
Data and big data analytics are fast becoming the lifeblood of any successful business. Getting the technology right can be challenging, but building the right team with the right skills to undertake big data initiatives can be even harder.
Not surprisingly, that challenge is reflected in the rising demand for big data skills and certifications. According to research by IT research firm Foote Partners, both noncertified advanced data analytics skills and certified big data skills have gained value in recent years: with 74 advanced data analytics related skills and certifications rising in average value by 6 percent in 2015, followed by 116 advanced data analytics related skills and certifications increasing 4.8 percent overall in market value in 2016. Additionally, Foote Partners research found 123 related certified and noncertified big data skills seeing a 0.3 percent gain in value in the first quarter of 2017.
Organizations are on the hunt for data scientists and analysts with expertise in the techniques required to analyze big data. They also need big data systems architects to translate requirements into systems, data engineers to build data pipelines, developers who know their way around Hadoop clusters and other technologies, and systems administrators and managers to tie everything together.
These skills are in high demand and are relatively rare. Individuals with the right mix of experience and skills can demand high salaries. The right certifications can help.
"Advanced data analytics capabilities are just too critical for staying competitive," David Foote, co-founder, chief analyst and chief research officer of Foote Partners, said in a statement released with the research. "They've expanded in popularity from a few industries to nearly every industry and market. And there is the Internet of Things, the next critical focus for data and analytics services. IDC is predicting a 30 percent CAGR over the next five years, while McKinsey is expecting IoT to have a $4 trillion to $11 trillion global economic impact by 2025 as businesses look to IoT technologies to provide more insight."
While the market value of noncertified advanced analytics skills has actually increased faster as a percentage of base salary than the value of certified big data skills, according to Foote Research, Foote believes pay premiums for both noncertified and certified skills will steadily rise over the next 12 to 24 months.
If you're looking for a way to get an edge — whether you're job hunting, angling for a promotion or just want tangible, third-party proof of your skills — big data certification is a great option. Certifications measure your knowledge and skills against industry- and vendor-specific benchmarks to prove to employers that you have the right skillset. The number of big data certs is expanding rapidly.