150 turns with Civilization VI: Active Research and civics tweaks change the game
Or "How I Learned to Stop Worrying and Love Active Research"
When last we visited with Civilization VI, it was to play through turns 1 through 60, a.k.a. the veeeery early stages. That was a scant two months ago (not even), but last week Firaxis continued the drip-feed of information by granting us access to turns 1 through 150.
Now let me marvel over Active Research for a bit.
On the shoulders of giants
I already talked a bit about Active Research after my first Civilization VI demo, but 150 turns gives me a much better idea of how the system works. So far, I love it.
First, the basics: Active Research is a new-for-Civ-VI system whereby you receive tech tree bonuses for completing certain in-game actions. Last time around I used the early-game example of founding a city on the coast, which gives you a permanent bonus to research on Sailing. Makes sense, right? You live on the shore, so your people have a natural affinity towards navigating the seas.
Looking at the tech tree, it seems that every development on both the Tech Tree and the new Civics Tree ("researched" with Culture—more later) has a method by which you could boost your progression. Kill an enemy with slings and you'll soon find yourself using bows instead. Improve two sea resources and you'll come closer to Celestial Navigation. Earn a Great Scientist and your civilization will take a step towards Education.
Chaining technologies together is a particular joy. For instance, early research on Pottery allowed me to harvest my previously-undeveloped Wheat resource. Building a farm on Wheat then boosted my research in Irrigation, and on it goes.Another example: Building an Iron Mine brings you closer to—surprise!— Iron Working.
Civilization has always been a game about the progression of humanity from nomadic tribes through to the modern era, but never has the idea been so tightly encapsulated as in Civ VI. The technologies are (mostly) the same, but seeing this cause-and-effect removes one more layer of abstraction and creates a narrative from Science. There's a logic to humanity's development here. Do this, and that follows.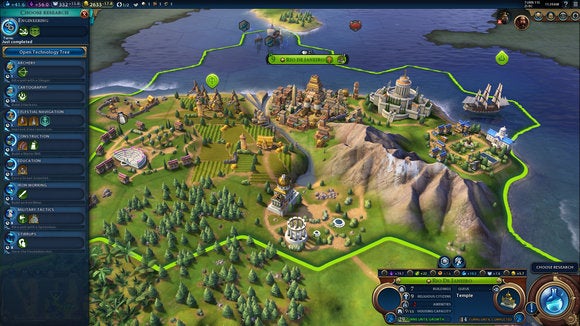 Active Research also seems like smart design though, from what I've played. Namely, it pushes me to try things I might not otherwise—both by chance and on purpose.
For instance, Theology is boosted by discovering a Natural Wonder. It may take you most of a game to discover one, and thus you might put off researching this technology until later than competing factions because it'll waste more turns. Or, if you have a Natural Wonder nearby, you might beeline for Theology in order to get an early advantage. That's what I mean when I say "by chance." It's random. It changes every game.