30 days with Udacity: A fast-paced and challenging path to Android development
The Udacity nanodegree is a tough, but excellent, start if you want to become an Android developer.
Of course, the real work comes in building Android apps with Google's official tool, Android Studio. Developers probably have a wide range of opinions about its efficacy. Mine was simply this: wow.
That's a lot of options. Sure, I may have written a book about MIT App Inventor, but that's a completely different ball game as it's visual programming (no code required).
While Android Studio has a layout screen, to do anything requiring complexity you'll eventually have to get into the code. Even with buttons. I found that in naming the buttons I was getting an error; even a simple task requires configuring the Java correctly (thanks, coding gods).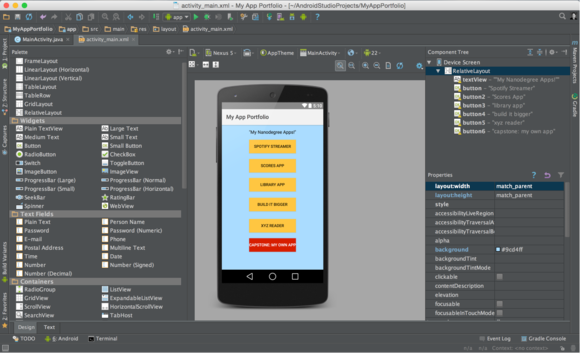 You'll spend a lot of time in Android Studio if you join the Udacity Nanodegree.
However, I did at least feel like I'd found some some success with the first exercise, known as Project 0. After pushing my way through it, I had a few buttons, had changed the background colors and made a pop-up notification. Hooray!
Ah, but I had much to learn. In particular there are many aspects of the layout I would like to get better at. That was the premise behind the next project, which called for tapping into a movie database API for displaying popular films.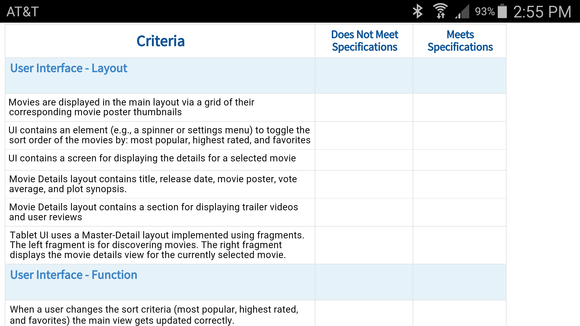 Each project has a rubric that outlines the specific benchmarks you need to hit.
Later projects (which go beyond the 30 days I was granted) dive deeper into the many parts of Google Play Services, which are the fuel that Android apps need to really come to life. This is why Udacity considers its Android Nanodegree to be for those with an intermediate skill level—you know how to build an app, but now want to make it something that others would want to download from the Play Store.
Another helpful resource was the Udacity Android app (there's also one for iOS) to have access to the materials or videos so I could use a mobile device as a second screen or as a method to re-read some instructions when away from the computer.
Is a Nanodegree for you?
Udacity's courses are clearly targeted at developers. So if your interests lie more specifically with User Interface design, you may want to look elsewhere (though a forthcoming class called Android Design for Developers might be of interest).
Udacity recommends you have experience building in Java (or the ability to pick it up quickly through other coding work), how to share code on Github, and have built at least a rudimentary app before attacking the Android Developer nanodegree.