A year after launch, how has Facebook Workplace fared?
With 14,000 organisations worldwide using its business collaboration app, Facebook has a foothold in the enterprise, but it faces stiff competition on multiple fronts.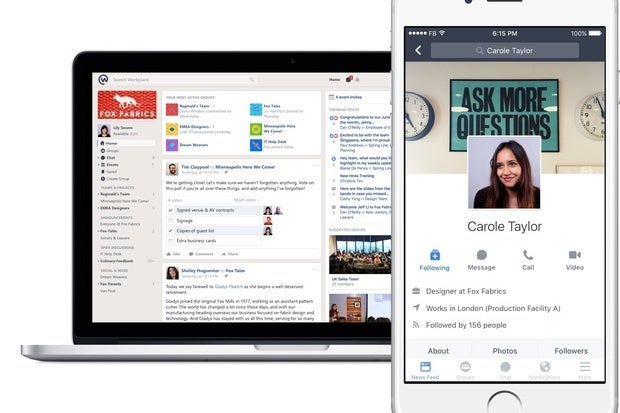 Credit: Facebook
Facebook launched Workplace last October with the aim of bringing its immensely popular social network to the world of business. The service combines the look and feel of Facebook's consumer app with features targeted toward enterprise users.
Its main advantage lies in its instant familiarity among end users. With 240 million Facebook users in the U.S. alone, chances are employees will already know their way around the application. From a business perspective this has a number of benefits. It means that there is less time spent training staff to use a new tool, and, in theory at least, increases the likelihood of strong uptake across an organization.
Of course, breaking into the fast-changing and increasingly crowded collaboration market brings its own difficulties. The social network has led the way in connecting families and friends, but convincing large organizations that it is ready to do the same job for staff is a much bigger challenge. And with Workplace, Facebook has come up against both established enterprise software firms such as Microsoft, Cisco and Google as well as a range of new chat platforms focused on team-based collaboration, such as Slack.
So how has Workplace fared in winning over corporate customers 12 months after its official launch?
According to 451 Research senior analyst Raúl Castañón-Martínez, despite some challenges in moving into the enterprise market, Workplace has achieved "remarkable growth" in the relatively short time it has been available.
The application is currently used by more than 14,000 organizations globally, according to Facebook, up from 1,000 at the end of its private beta. Royal Bank of Scotland was one of the big corporate users announced before the service's full launch — back when Workplace was named Facebook at Work — with the multi-national bank rolling out the software for its 100,000-strong workforce in late 2015. Last week, Facebook announced Walmart as its latest customer win, a significant deal with a retail giant that employs 2.2 million staff globally.
And with interest in collaboration software booming, there is plenty more room for growth. "It might seem like Workplace was a bit late to launch, but the party is just getting started," said Castañón-Martínez. "Slack has experienced phenomenal growth and has not been around for that long. If you look at the total addressable market, they've just begun scratching the surface. This means the market is still growing and is up for grabs."
How does Workplace work?
Workplace has a similar look and feel to its consumer-focused equivalent — including the familiar central News Feed — making it easy for new users to pick up. Its instant messaging tool, Work Chat, allows colleagues to chat or set up 1:1 video calls. Groups can be created to focus on specific projects, while a multi-company feature enables staff to communicate with external teams. Live video streaming allows organizations to engage with a large number of employees at once.