Create collaborative online photo galleries
Assemble your friends' and family's photographs into a communal album
Group Story and Mixbook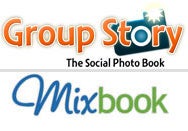 Group Story and Mixbook are collaborative-album sites that are focused on creating a scrapbook-like finished product. For a more controlled online scrapbooking experience, use Group Story, which lets you and your friends add pictures or scrapbooked pages to an album through premade templates. Neither site requires that you have Flash installed to create book pages, unlike the popular Scrapblog.com site. There's an easy-to-find Invite Contributors icon that lets you send an e-mail invite to your friends.
Both of these sites are specifically focused on album teamwork and allow you to publish your scrapbook as an actual printed book. Mixbook is pretty intent on getting you to purchase your scrapbook as a book; you have to choose a "book style" when you begin, even if you have no intent of ordering a tangible scrapbook.
Group Story's books start at $16 and Mixbook's start at about $5.
Keepsy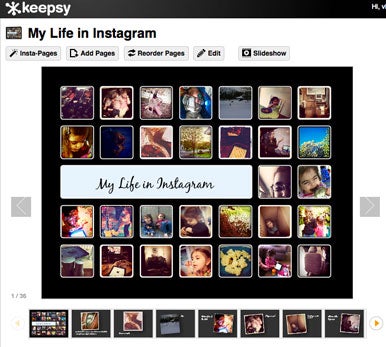 Keepsy will import all of your Instagram photos and captions and turn them into a book.
A new Website called Keepsy allows you to invite friends via Twitter or Facebook to collaborate on a printed album. If they're not social networkers, your friends and family can still add images by sending them to the album's dedicated e-mail address. As a twist, contributors can all pitch in to pay for a printed album—a great idea for a group birthday, wedding, or graduation gift.
To get started, pick a theme for your album and upload a few starter photos. Each page design can be customized with custom frames, background designs, clip art, text, and doodles. Instagram users can make an album from all old Instagram pictures and captions. Creating the online album is free, and printed albums cost $30 and up for an 8-by-10-inch book containing up to 30 pages.