Ways to avoid junk mail by using Mail and other tools and techniques
The Junk Mail preference
The Junk Mail feature is configurable--you can see how by choosing Mail > Preferences and selecting the Junk Mail tab. The following are its options.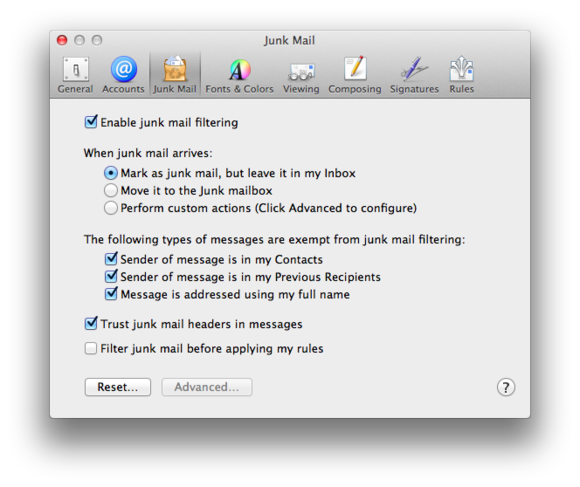 Enable junk mail filtering: At the top of this preference, you see that you can turn it on or off with a single click. Why turn it off? If you're using a third-party spam-filtering application (which I'll discuss later), you don't want Mail's junk filtering to interfere with it.
When junk mail arrives: By default, messages deemed to be junk will be left in your inbox but marked in an orangy-brown color, making it easy to spy them in your message list. This is the default behavior, because Apple wants to make this stuff obvious so you can take a peek at it and then correct any mistakes Mail has made. (In other words, it's a way of forcing you to train Mail.) Once you've become used to the idea of receiving and marking junk mail (and gaining a sense of how accurate Mail is at identifying it), enable the Move it to the Junk mailbox option. This creates a Junk mailbox in Mail's Mailboxes pane. Any future identified junk mail you receive (and any messages you mark as junk) will be moved from your inbox to this folder.
Note that it pays to check the Junk folder from time to time. Mail's junk mail detection is reasonably good, but it's not perfect. You don't want to miss an important message because you put too much faith in this feature's powers.
There's a third option under the 'When junk mail arrives' heading--Perform Custom Actions. In a previous lesson I showed you how to work with Mail's rules. You can put that information to good use by selecting this option and clicking the Advanced button at the bottom of this window.
A sheet descends, and you see a list of pop-up menus that contain conditions--rules that a message must meet to be considered spam. If you find that the junk mail feature over- or under-identifies junk mail, mucking with these conditions may help. For example, you might add a condition that reads 'From Contains X' where X is a domain that routinely sends you messages you don't want to read--an online shopping emporium, for instance, that refuses to remove you from its mailing list. And, as with other rules, you can add or reconfigure the actions taken on messages determined to be spam. You can, for example, change that orangy-brown color to something a little more eye-pleasing, as well as flag junky messages so that they really stand out.
Previous Page 1 2 3 4 5 6 Next Page