Google announces interactive watch faces, better Translate for Android Wear
The update lets you tap the watch face to launch an action, eliminating the need to always scroll through your list of apps.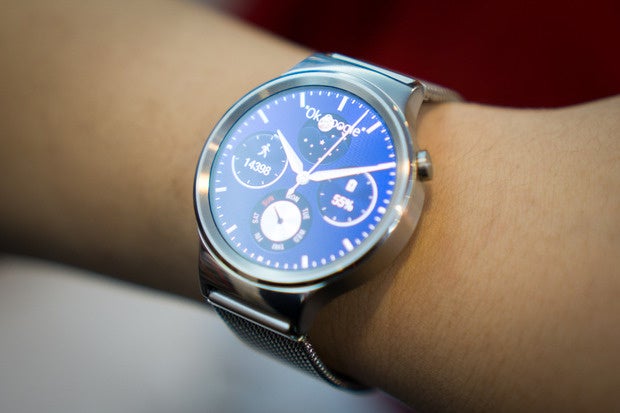 Behold: It's a Huawei Watch. Credit: Jason Cross
Your Android Wear watch face is about to get more interactive. That's because Google is giving developers the tools for a watch face to spit out more context when you tap on it.
The Official Android Blog details the update, with a few examples that Google clearly partnered up with some developers on.
One example is the Bits Watch Face, which lets you view the weather, calendar, or other pieces of information all from the main screen.

Official Android Blog The Bits watch face shows off Android Wear's interactive capabilities.
Also, Under Armour demonstrates how a watch face can give you health details without the need to launch a separate app.

Official Android Blog The Under Armour watch face may serve as an ideal workout companion.
Android Wear's own Together capability lets you pair up your watch with someone else, so you can share an emoji, picture, or other details about your day.

Official Android Blog Android Wear can help you stay connected to someone special.
An over-the-air update to version 1.3 is supposed to roll out over the next few weeks. The Android Developers Blog also notes that Wi-Fi support is also coming to the LG G Watch R.
Google wasn't done by just teasing watch faces. A tweet from @Google showed off Translate in action, which can perform on-the-go translations even without a connected application.
Watch your language. Literally. http://t.co/1JQi8Pi6i3 #AndroidWear https://t.co/OmSHlE3SaP

— Google (@google) August 20, 2015
The update also brings new Google Translate functionality, allowing watches to translate entire conversations right from your wrist. It only works with about 44 of languages that Translate supports, but it should detect them automatically.
Why this matters: One advantage that Android Wear has over other smartwatch platforms is flexibility. Google keeps giving developers a lot of clever tools to help Android Wear do more than just display apps or Google Now cards. The platform needs innovations like this in order to win over those who may still be skeptical of adding another screen to their lives.