JPEGmini Pro review: Cut digital photos down to size without sacrificing quality
Slim down JPEG images with no discernable quality loss and make room on your hard drive or flash storage.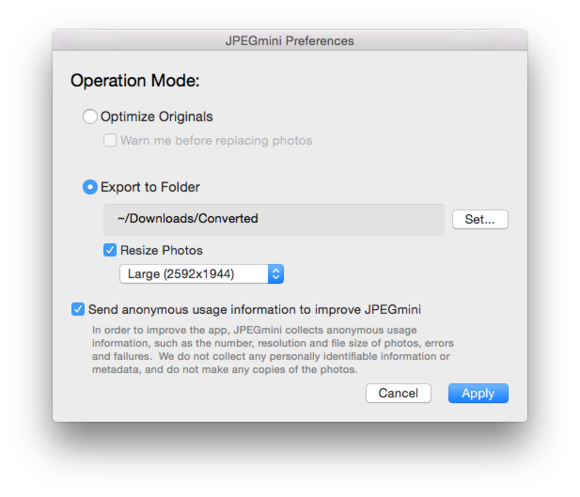 JPEGmini defaults to replacing original files, but can be configured to export copies to a new location (with optional resizing) instead.
If you'd rather not replace valuable originals, clicking a button in the lower left corner allows users to select a folder where exported copies can be saved, along with the option to resize such duplicates at the same time. In my tests, processing was about 3.5 times slower than copying the exact same files in the Finder; when completed, a fuel gauge at top displays the total amount of space saved.
By now you're probably asking, does JPEGmini work? My first small batch of files scanned from old prints delivered a respectable 2.1x decrease in size, saving nearly 96MB—and as promised, no visible reduction in quality compared side-by-side with the originals. Next, I processed nearly 2GB worth of images directly off the SD card straight out of my Canon T3i, which crunched down to just over 530MB in about four minutes, an impressive 3.5x space reduction.
My final test involved exporting a large Lightroom library using the JPEGmini Pro plug-in, which is inserted into the post-processing flow. (Sadly, there's no way to optimize files inside a library.) I was able to reduce a 55GB library containing nearly 19,000 images down to only 12.75GB in about five hours using a mid-2012 MacBook Pro with Retina Display—impressive results, especially considering the process is entirely automatic, with no tweaks or user intervention required.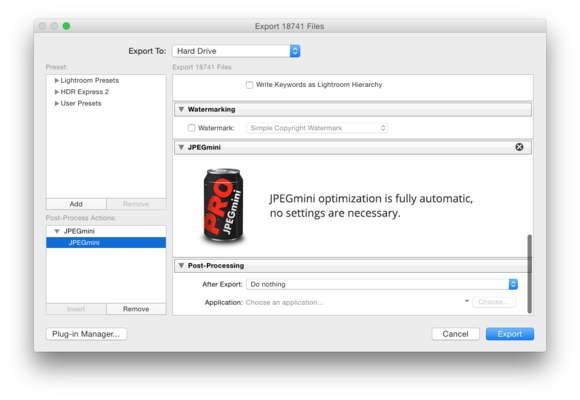 Once inserted into an Adobe Lightroom export workflow, JPEGmini Pro automatically processes images with no user intervention.
Bottom line
Although I wouldn't recommend using JPEGmini Pro on original files, it's great for cutting exported JPEG copies down to size without sacrificing quality.