Man vs. A.I. machine in Texas Hold'em matchup
In this 'epic rematch,' artificial intelligence system will be tested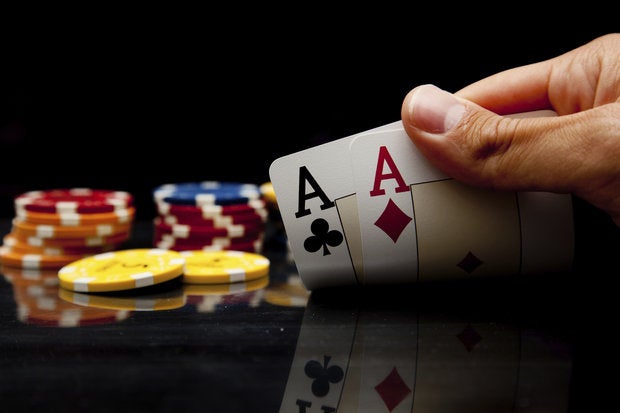 Four of the world's best professional poker players are about to take on an artificial intelligence system in what A.I. developers are calling an "epic rematch" to find out if machines can outplay humans.
"Since the earliest days of A.I. research, beating top human players has been a powerful measure of progress in the field," said Tuomas Sandholm, professor of computer science at Carnegie Mellon University (CMU) in Pittsburgh. "That was achieved with chess in 1997, with Jeopardy! in 2009 and with the board game Go just last year."
Poker, however, poses a different, and a more complex challenge.
"Poker poses a far more difficult challenge than these games, as it requires a machine to make extremely complicated decisions based on incomplete information while contending with bluffs, slow play and other ploys," Sandholm said.
In what has been dubbed "Brains vs. Artificial Intelligence: Upping the Ante," the tournament will begin Jan. 11 at the Rivers Casino in Pittsburgh. During the tournament, poker pros Jason Les, Dong Kim, Daniel McAulay and Jimmy Chou will play 120,000 hands of Heads-Up No-Limit Texas Hold'em over 20 days against a computer program.
Researchers at Carnegie Mellon developed the A.I. system, named Libratus.
The pros are competing for a $200,000 prize purse. Even if the A.I. system wins, the human players will split the money, with the cash doled out based on the players' performances.
This is the second time that a CMU-built A.I. system has taken on some of the world's best poker players.
In 2015, CMU launched the first Brains Vs. A.I. contest. During that tournament, CMU ran another system, called Claudico, which Sandholm built.
During that first challenge, Claudico didn't win and collected fewer chips than three of the four professionals it was playing against.
However, the university contends that the 80,000 hands played in the first human vs. machine poker challenge was not enough to definitively establish the superiority of a human or a computer with statistical significance.
That's why in this upcoming tournament, Sandholm and the poker professionals are increasing the number of hands to be played by 50 percent.
"I'm very excited to see what this latest A.I. is like," said Les, a pro player in the tournament, in a statement. "I thought Claudico was tough to play; knowing the resources and the ideas that Dr. Sandholm and his team have had available in the 20 months since the first contest, I assume this A.I. will be even more challenging."
While he expects the machine to play better this time, Les also expects the human players to improve their games.
"From the human side, poker has gotten much tougher in the last 20 months," Les said, explaining that professional players have embraced publicly available game theory tools, which have improved their play.