The 5 best budgeting apps for tracking and planning your financial life
Take control of your spending and build wealth.
For many of us, the word "budget" evokes feelings of dread and deprivation. No wonder only one in three Americans keeps a household budget. That's unfortunate, because there are now more options than ever for tracking your spending and reaching financial goals.
We've rounded up five of the best. There's something here for everybody, whether you want a no-hassle way to keep tabs on your in- and outflows, a tool to help maximize your means, or a way to build wealth through investments. Unless otherwise stated, each of these programs is cross-platform and will sync across devices.
Mint
Ten-year-old Mint is one of the most popular personal finance programs for good reason. Once you authorize it to connect to your various financial accounts, it tracks them in real time requiring little further input from you. You can also add in any property and vehicles you own to get a better idea of your net worth.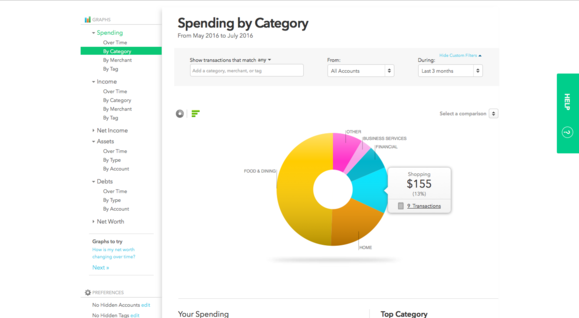 Mint shows you the big picture of your finances, including transactions, trends, and goals.
Mint's strength is that it gives you a big-picture view of your finances in a clear, colorful layout. It makes it easy to stay on top of transactions, see income and spending trends, and follow the progress of your goals. It will even analyze your habits and make suggestions on how you can improve your financial status. It's also free, so it's already helping you save money.
But Mint is primarily a tracking tool. You can't reconcile transactions and its budgeting features are limited to setting monthly spending goals by category. While that's not an issue for users who receive predictable paychecks, it's not ideal for those with irregular income who often can't project their spending further than a week or two at a stretch. If the latter describes you, take a look at the next two programs in our list. If you just want an easy way to stay on top of your spending, though, Mint can't be beat.
You Need a Budget
Your grandparents likely budgeted by dividing their cash into envelopes labeled for essential categories such as "groceries," "utilities," and "clothes." When all the cash for a particular category was spent, that was it until the next payday. Overspending averted.
You Need a Budget uses a zero-sum budgeting system to allocate all your available funds.
You Need a Budget (YNAB) is built on this decades-old "zero-sum" budgeting system. Its category-based interface makes it easy to allocate available funds for bills, discretionary spending, debt payments, and savings goals. If an unexpected expense comes up in a category you didn't budget for, you can move funds from a budgeted category by clicking on it and sending the amount where it's needed. If you overbudget, YNAB highlights the offending categories in red so you can re-allocate dollars and get your budget balance back to zero.