The 5 best budgeting apps for tracking and planning your financial life
Take control of your spending and build wealth.
The program's greatest asset, however, is its huge community of devout users who embrace YNAB's four rules of budgeting: 1) Give every dollar a job, 2) Embrace your true expenses, 3) Roll with the punches, 4) Age your money. While they're a great resource for helping you find your way around YNAB, they're even better for helping you embrace the mindset shift required to get your finances in order for the long haul.
YNAB recently moved from offline desktop software to a cloud-based subscription, so you can now import transactions from all your financial accounts (though you still need to manually categorize them). The ability to generate reports was lost in the transition to cloud software, but YNAB has said it's in the works.
YNAB offers a free 34-day trial with subscriptions costing $5/month or $50/year.
Every Dollar
Personal finance guru Dave Ramsey created Every Dollar to more easily facilitate his baby steps to budgeting. Like YNAB, it's based on the envelope method and the principle of giving a job to every single buck.
Every Dollar starts you off with eight main budgeting categories: Giving, Savings, Housing, Transportation, Food, Lifestyle, Insurance & Tax, and Debt. You can add more to tailor your budget to your needs. You assign available funds to the "planned" field for each category, and as transactions are input, the amount is deducted from the appropriate one.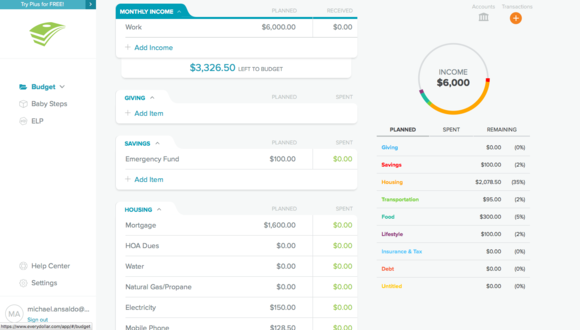 Every Dollar's simple interface walks you through Dave Ramsey's "baby steps" of budgeting.
But the real purpose of Every Dollar is not just to track your spending but where you are in Ramsey's seven-step "baby step" journey to financial solvency:
Save a $1,000 emergency fund
Pay off all debts using the snowball method
Save 3-6 months of expenses
Save 15 percent for retirement
Start a college fund for the kids
Pay off the house
Build wealth and give
Clicking Baby Steps from the left menu bar will show you exactly where you stand with each of these goals. In addition to showing the dollars you've accrued for each goal, this progress page offers tips pulled from Ramsey's blog for tackling each step.
You don't have to embrace Ramsey's teachings to use Every Dollar, but you'll get more out of it if you do.
Every Dollar is free to use, but you'll have to manually add transactions. To connect it with your bank accounts and track activity in real time, you'll need to upgrade to Every Dollar Plus for $99/year.
Quicken
Quicken was one of the very first personal finance programs, and it remains the most full-featured. It currently comes in three versions for Windows and allows you to do everything from build a household budget to manage and maximize investments, depending on which one you get.