The digital workplace: 8 steps to greater agility, productivity
Your digital transformation is doomed to fail unless you empower employees with a digital workplace. Here's how to craft a workplace that boosts engagement and agility.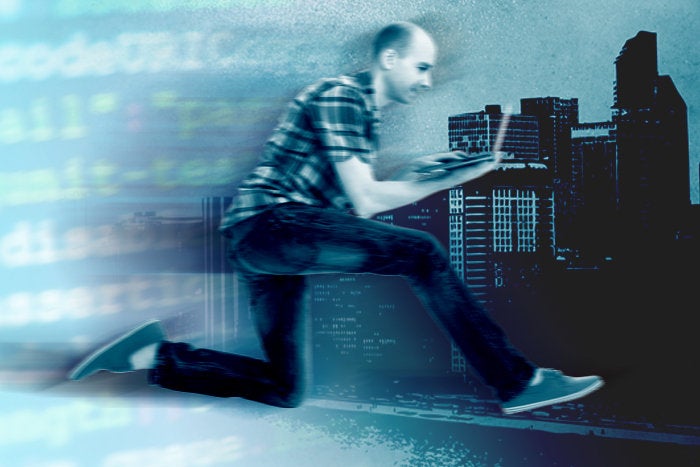 Credit: Thinkstock
True digital transformation goes all the way through to the core. And that includes an often overlooked aspect: the workplace itself.
Yes, modernizing IT systems, overhauling business processes and stacking talent benches are crucial undertakings. But such initiatives lay bare a chicken-and-egg problem that many CIOs must scramble to address: that a good customer experience first requires a good employee experience in the form of a digital workplace, says Gartner analyst Carol Rozwell.
What is the digital workplace? It is a business strategy aimed at boosting employee engagement and agility through consumerization of the work environment, Rozwell says. Think of your one-size-fits-all-users ERP or expense management applications and imagine the opposite user experience. Your digital workplace should help individuals and teams work more productively without compromising operations. It should include computers, mobile devices and productivity and collaboration applications that are web-based and synch in real time. Such tools should, for example, mimic the ease of use of Uber and Airbnb and the social aspects of Facebook and Instagram. IBM, for one, has undertaken a massive transformation of its workplace to lure new tech talent.
"The idea of the digital workplace is to bring that same simplicity and intuitiveness to employees when they're doing their mission-critical work," Rozwell says. Maybe you've heard your CIO peers talk about "getting ahead of shadow IT"? They mean facilitating, rather than prohibiting, consumerization.
Following is an eight-point plan for transformation your work environment into a digital workplace, which Rozwell recently shared with CIO.com.
1. Vision
Your digital workplace plan should align with business and digital transformation goals — and clearly answer why you want to overhaul your work environment. Remember, your goal is to increase employee engagement and productivity. Work closely with stakeholders, including business, HR and facilities managers, to shape the plan and execute changes, bearing in mind the workplace demographics and potential impact those changes will have. How will these efforts change business processes? Don't make and execute on technology platform decisions until you achieve clarity and agreement on the digital workplace's purpose and objectives. This will consume significant budget, so remember to get buy-in from the rest of the C-suite and board of directors.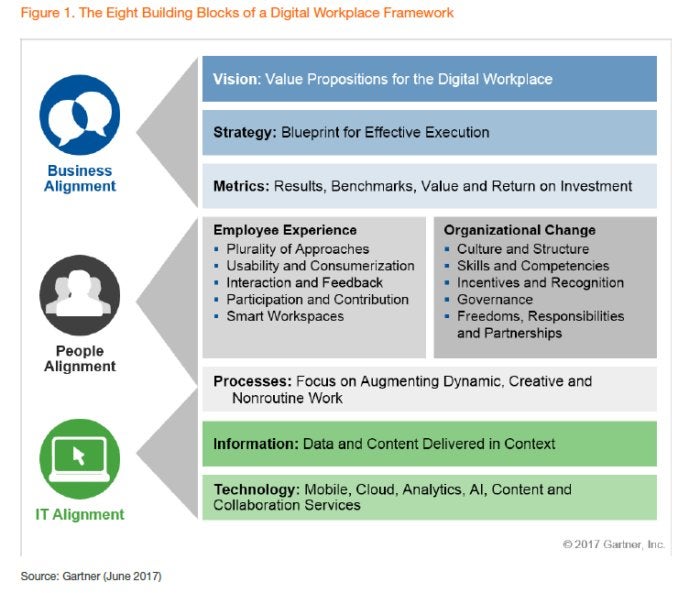 Credit: Gartner. Click for larger image.
2. Strategy
Next, establish a roadmap and blueprint for coordinating digital workplace initiatives across R&D, marketing, sales, customer support, manufacturing, HR and IT. Questions to ask: How will you exploit various technologies to raise employee engagement levels and support your company's digital initiatives? How can you create workspaces that increase employee creativity and enable ad hoc and formal opportunities for collaboration? Be sure to do your homework, as this requires a clear understanding of how people work and what improvements are envisioned.