The latest iPhones show why A.I. is the new electricity
New technologies abound in the iPhone 8 and iPhone X, but one of them is not like the others.

Credit: Thinkstock
Apple has now rolled out its shiny new iPhones.
On Sept. 12, Apple executives predictably pronounced the latest phones "revolutionary." But the real revolution is happening under the surface and behind the scenes.
The new iPhones come with cutting-edge brand-new features. For example, Apple touted Face ID for faster login, Portrait Lighting to make faces brighter in photos, and Animoji, which are avatars that change facial expression when the user does.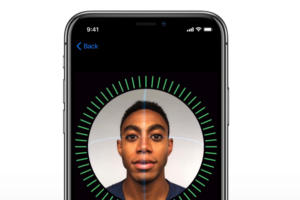 Face ID setup. Credit: Apple
In typical Apple style, these features offer easy security, aesthetic beauty and whimsy, respectively. What they all have in common is artificial intelligence (A.I.).
The iPhone 8 and 8 Plus (and the upcoming iPhone X) are powered by Apple's A11 bionic processor, which is a six-core SoC optimized for A.I.
Some users and pundits are disappointed with some aspects of the iPhones. But to build a processor like the A11 into a phone (instead of a supercomputer) is revolutionary without question.
Not only can this six-core chip fire all cores simultaneously, it's really fast. Benchmarks are showing that the A11 blows away the newest iPad Pros in performance and is closer to Apple's fastest laptops.
The revolutionary bit, however, is dedicated hardware Apple calls a "Neural Engine." This part can perform up to 600 billion A.I.-specific operations per second. The "Neural Engine" is designed to work with Apple's Core ML developer tools, which exist for app developers to gain easy access to the power of machine learning.
Thanks to this complete A.I. system, iOS developers can plug A.I. into otherwise mundane apps.
Today, a tiny fraction of the available third-party iPhone apps use machine learning. Within a few years, most of them probably will.
The revolution is the mainstreaming and genericization of A.I., becoming as easy to access as electricity.
A.I. is by far the most important technology currently emerging. But even industry experts fail to understand the nature of the coming revolution.
This time, the cliche is true
Once every few decades, a new technology comes along that changes everything.
Of course, in Silicon Valley, "changing everything" is a tired and empty cliché. But a technology like electricity really did change everything. (Other such technologies include fire, metal tools and weapons, mass production, computers and the internet.)
These technologies change everything because they can transform existing technologies, and also enable new ones.
Before electricity came along, we had light in the form of candles and lamps. We had hand-cranked wringers and clotheslines to dry clothes. We had gas and wood-fired ovens. We had fireplaces to cook and heat the house. We had ice boxes to store cold food.