These three virtual assistants point the way to the future
Siri, Google Now, Cortana, Alexa -- yawn! We look at three new virtual assistants that raise the bar for usefulness, interactivity and personalization.
PH360 exceeded its initial goal of raising $100,000 in Kickstarter crowdfunding. Shae is now in private beta, with global release planned for this fall. An annual subscription will cost $197.
Over time we'll learn if users are thrilled with the Shae assistant. Whether Shae succeeds or fails, the service represents the future of virtual assistants because of its extreme personalization and the eclectic nature of the data, integrating family history, personal health details, health knowledge, environmental data and more -- and for its preemptive advocacy of habits that benefit the user.
Samsung Otto
Following the success of Amazon's Echo device, Samsung unveiled its own virtual assistant home appliance called Otto in April of this year. (Google has now followed suit with the May announcement of its upcoming Google Home appliance.)
Like the Amazon Echo, which is possessed by a virtual assistant named Alexa, the Otto is an Internet-connected speaker and microphone that interacts with you via spoken conversations and can control home automation appliances like lights. Otto can answer questions, order products, and play music and podcasts on command.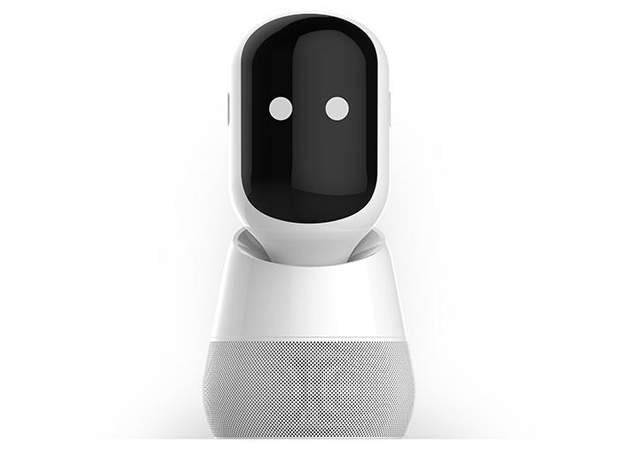 Samsung's Otto is a prototype virtual assistant appliance. It's a lot like the Amazon Echo, but with an HD camera. Credit: Samsung
But unlike the Echo, Otto is also an HD security camera that can stream video live to your phone or computer. The device has a kind of head that can turn, pivot and swivel to let you look around the room remotely. Otto can also recognize faces -- and even has a rudimentary face of its own, displayed on a screen.
It's based on Samsung's ARTIK IoT platform, which Samsung recently unveiled developer tools for.
Otto is a prototype, and Samsung isn't saying whether it will bring the appliance to market, or when. But based on my own observation of Samsung's way of quickly bringing high-visibility prototypes to market as products, I expect Otto or a version of it to become available within the next year or so.
Otto represents the future of virtual assistants not only because it is a physical home appliance, but also because it uses facial recognition. That means different members of the family could each have their own set of preferences and personal details, calendars and accounts -- and Otto and other future appliances could base their interaction on the knowledge of whom they're talking to.
The future of virtual assistants is virtually here
Shae, Amy and Otto together represent the future of virtual assistants, which will be specialized, personalized, thorough, preemptive, highly intelligent and optionally available in the form of dedicated physical appliances.
Previous Page 1 2 3 4 Next Page