Top 4 marketing automation tools and why you'll love (and hate) them
A handful of professional digital marketers weigh in on their favorite marketing automation tools, and spotlight pros and cons of each. Some of the picks were the usual suspects — HubSpot and Hootsuite — while others were surprises.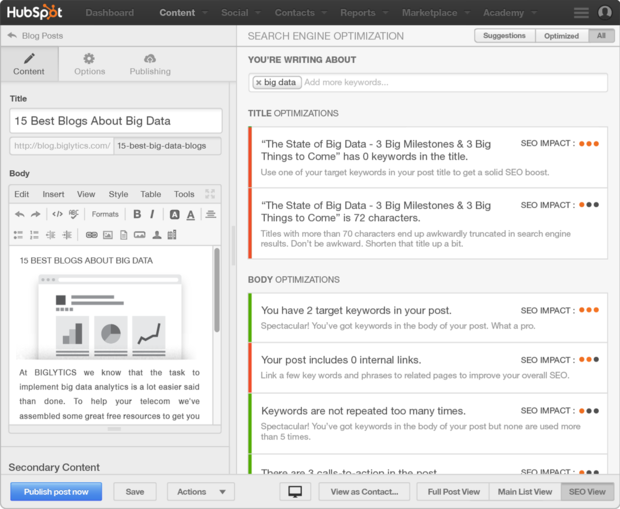 Hubspot dashboard
HubSpot's room for improvement
Contradictory approach toward content. "HubSpot speaks out of both sides of its mouth when it comes to content quality. I'm working a pretty serious segment — biotech and medical device manufacturing. You have to know what you're talking about to be credible. HubSpot acknowledges the need for high-quality educational content — people aren't looking to be sold when researching online. But they also offer $10 bloggers for hire and canned ebooks, which to me contradicts that message." — Alaniz Marketing's Peatman
Poor access to data. "Let me do SQL queries. Let me tie my data together. HubSpot has gates in front of the data, as many of these companies do. That makes it easier to use, but I'd love the ability to do better analysis and create better segments by giving me access to manipulate my data in new ways." — SmartFile's Peterson
Sales and CRM capabilities aren't fully realized. "HubSpot is one of the first automation tools that's spending more time building out the sales and CRM section of the platform, but they still have a little way to go. I believe that connecting marketing automation and sales is one of the most powerful things you can do for your business. It allows you to get the full picture when viewing your marketing analytics and see your real customer acquisition cost by traffic source. One of the things we are looking forward to is a CRM mobile app for HubSpot." — Caleb Edwards, founder, CEO, GreenHouse Agency
Not as many features as competitors. "HubSpot is wildly overrated. It has a nice interface but it has one-third the functions found in Marketo. HubSpot has done an A+ job of marketing themselves and building community. To me, it is a cult, not an enterprise-grade marketing tool. Their low-end $200 offering is almost not functional enough for Marketing 101. I've used it for startup clients with small budgets, and it's only slightly better than nothing." — Susan Roberts, managing director, Strata Consulting Services
2) Hootsuite
Hootsuite (five votes) is a freemium social media management dashboard that lets you write a single status update and post it simultaneously to multiple networks, as well as measure reactions. Paid plans start at $10 a month.
Why marketers love Hootsuite:
Streamlines social media management. "I don't believe in using automated tools for all social media, because social media should be real-time engagement. However, in terms of driving programs and promoting specific content and ensuring consistent communications, Hootsuite is an invaluable tool that enables me to manage and report on social media engagement." — Erika Goldwater, vice president of marketing, ANNUITAS
Previous Page 1 2 3 4 5 Next Page