Top 4 marketing automation tools and why you'll love (and hate) them
A handful of professional digital marketers weigh in on their favorite marketing automation tools, and spotlight pros and cons of each. Some of the picks were the usual suspects — HubSpot and Hootsuite — while others were surprises.
Best mix of DIY tools for small marketing teams. "Pardot helps us punch above our weight and play in the major leagues. We looked at Marketo, HubSpot, and Eloqua and ultimately settled on Pardot because it had the best mix of DIY capabilities for a small marketing team and the native integration with Salesforce we really needed to be successful." — Cripe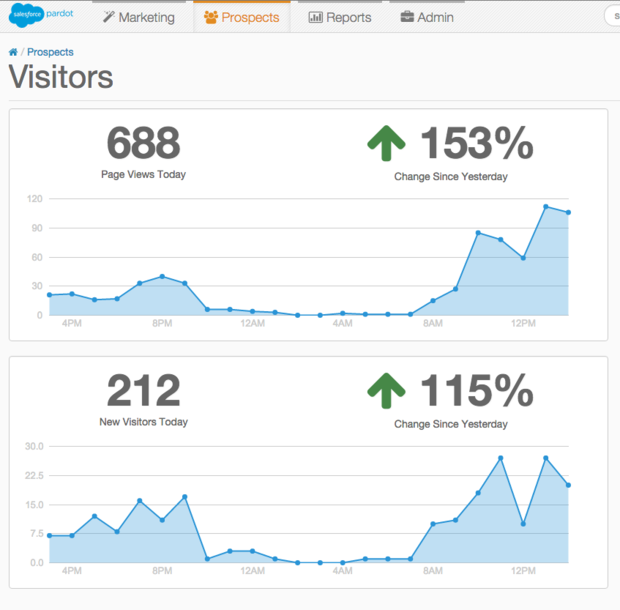 Pardot dashboard
Pardot's room for improvement:
Weak customer support. "Pardot's customer support is lackluster. We had a designated rep for the first two months, and now I can only get support via email. I would love it if they followed Salesforce's lead by offering chat and phone support." — Verner
4) Marketo
Marketo (three votes) is an "engagement marketing platform" that offers email marketing, inbound marketing, lead generation and other tools. Pricing starts at $895 a month.
Why marketers love Marketo:
Integrates easily with other tools. "I use Marketo daily to manage and execute campaigns, build segmentations, and run my monthly reporting. Because Marketo is easily integrated with so many third-party tools, such as Google Analytics, GoToMeeting, and WordPress, it's considered the hub for most of our marketing activities. I take advantage of the automation capabilities to make my daily work easier. From building a webinar program at once and letting it run (including confirmation, reminder, and follow-up emails) to rule-based nurture programs, Marketo gives me the ability to set it up once and walk away. And the integration of Marketo with Salesforce is the best I've seen and the easiest to maintain." — Gwen Knudsen, associate director of demand generation, LiveHive
Solid tools for scoring leads. "Marketo's lead scoring has given me a level of automation that normally would require hours of manual work. Instead of sending leads in batches, leads are funneled to the sales team once they reach a certain score in real-time. Sales then takes those leads and puts them down their own 'nurture path,' using their own sales acceleration tool." —Knudsen

Marketo
Marketo's room for improvement:
Dated interface. "Marketo does everything a marketer could ever want. But it's like wrestling a bear to tap into that functionality. The user interface must be based on some old piece of software from the 1990s." — Strata Consulting Services' Roberts
"Marketo's user interface is outdated, and I find their training difficult because the program's delivery platform isn't user friendly." — Joey Baird, director of digital marketing, Sparxoo
Lackluster reporting. "The biggest area of opportunity I see for Marketo is around reporting, such as multi-touch attribution and closed-loop reporting. Marketing teams want to know what the winning formula was for a campaign and an opportunity. Visibility into that on Marketo can be cumbersome and manual." — Knudsen
Previous Page 1 2 3 4 5 Next Page