Who cares about Hadoop on Linux? Microsoft (yes, really)
By offering big data services in its Azure cloud on Linux, Microsoft is sending several important messages to customers.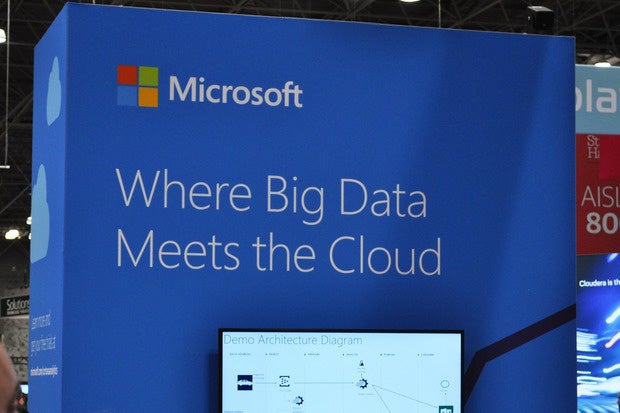 A banner for Microsoft's cloud services at the company's booth at Strata + Hadoop World in New York on Sept. 29, 2015. Credit: Marc Ferranti
Last month Microsoft did something extraordinary – something which demonstrates how completely the company has changed since its third CEO, Satya Nadella, took over.
Microsoft announced the general availability of Azure HDInsight, a fully managed Apache Hadoop cluster service running on Linux in its Azure cloud.
At first glance that's doesn't seem like to much of a big deal. But it is, and here's why.
When Microsoft announced Azure back in 2008, what it actually announced was "Windows Azure." This was to be "Windows in the cloud" – a new platform as a service (PaaS) offering for developers to design Windows applications running in Microsoft data centers.
Today we don't hear talk of Windows Azure: it's very much the Microsoft Azure cloud, and there's plenty besides Windows running within it – in fact, 20 percent of the virtual machines running in Azure are Linux-based, according to Microsoft.
What's happened since Nadella took over is not that Microsoft has abandoned its PaaS plans – it's just that Azure Infrastructure as a Service (IaaS) has become incredibly important to Microsoft.
That's the view of Wes Miller, a former Microsoft program manager who is now an analyst at Directions on Microsoft. "Because of this, Microsoft is allowing – and in fact embracing – Linux, Docker and so on. The company's attitude is: 'If you want cloud, buy it from Microsoft. Azure is a cloud service and it can do Windows – but it can also do non-Microsoft platforms'.
This stance is echoed by T. K. "Ranga" Rengarajan, Microsoft's corporate vice president, Data Platform. "We want Azure to be a place where all operating systems can run," he says.
"At launch we had a position which was not consistent with that," he admits. "Now we are more relaxed, and open to partnerships too."
Microsoft has been saying for some time that it is committed to open source, and it's backed these words up with some significant actions to prove that it's serious. But offering Azure HDInsight on Linux shows that Microsoft is serious about another message.
No more sacred cows
To understand what the message is, let's go back a couple of years, when Microsoft was all for doing big data analysis using Hadoop. To that end the company promised to offer Hadoop in three ways:
A cloud-based Hadoop as a service offering called Windows Azure HDInsight Service.
The Hortonworks Data Platform for Windows – an open source Hadoop distribution running on Windows Server.
HDInsight Server for Windows – a Windows based Hadoop distribution designed to work in a virtualized, private cloud environment using Microsoft's Hyper-V hypervisor and System Center management system