New guidelines point to an augmented future
65 organisations agree on augmented reality guidelines for the factory floor.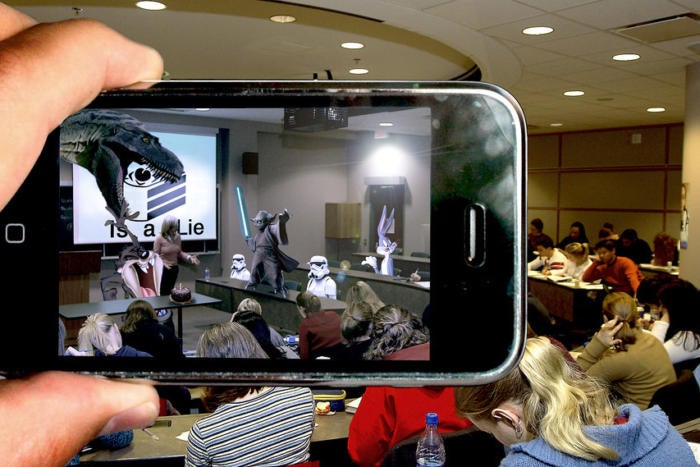 Lockheed Martin, Procter & Gamble and Caterpillar have joined with 62 other organizations to create hardware and software guidelines for using augmented reality (AR) on the manufacturing floor.
The guidelines are designed to guide AR technology vendors in developing future products for industrial businesses, both large and small. UI Labs and the Augmented Reality for Enterprise Alliance (AREA) announced the guidelines in a document released on Tuesday.
Enterprises will benefit from these guidelines, also called "functional requirements," because they will encourage interoperability among hardware and software products and make it easier to request bids for AR products, AREA said.
The guidelines are obviously voluntary but still deemed to be a consensus among many manufacturers, including AR device makers, that could contribute to greater adoption of AR. Even so, AREA didn't use the term "standards" in referring to the guidelines.
"One of the major challenges of deploying AR and VR [virtual reality] has been the lack of standards for hardware, software and interfaces," said Jack Gold, an analyst at J. Gold Associates.
"Anything that can help get standards in place will accelerate the adoption and deployment of AR. That said, this is a first step, not the endpoint," Gold said. "This effort is important if it really does influence solution providers to standardize and allow interoperability."
Dima Tokar, an analyst at Machnation, said AR has the "potential to revolutionize many industrial use cases, but without a standard, it's difficult to implement a solution that works across multiple vendors."
Just in the enterprise internet of things category, AR guidelines could affect vendors that provide devices, connectivity, middleware, applications, integration and services, he said.
AR technology is different from virtual reality (VR) in that AR displays new information on top of an existing environment. A worker can use glasses, headsets or tablet computers to provide a composite view of the real and virtual worlds.
For example, an aerospace worker could try out a virtual design for an aircraft wing on an existing fuselage. A shop foreman could see where a new part needs to be inserted in a complex assembly line.
The hardware guidelines from AREA outline storage, connectivity, battery and other requirements for AR devices. For example:
Device batteries should have a minimum life of 12 hours and be able to be swapped out in less than five minutes while wearing gloves.
The latest low-power Bluetooth and Wi-Fi wireless standard should also be used.
Minimum on-board storage should be 128 GB.
AR goggles, headsets or tablets should provide a 3D view with a minimum of 85 degrees for field of visions in both directions -- horizontal and vertical.
AR devices should support a web browser.
AR devices should support a pointer control and a wireless microphone with noise cancellation.