Flickr's new interface emphasizes social media, but will anger long-time users
Flickr's new upgrade showcases big, bold images, but many do not like the change.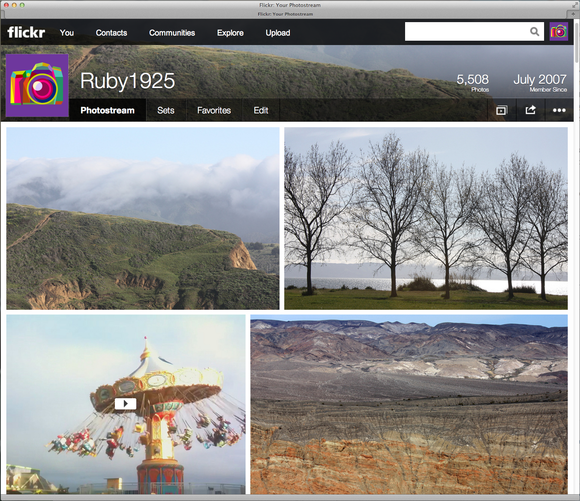 Like many longtime Flickr users, I was overjoyed at the prospect of Yahoo lavishing its fading photo service with some love after a prolonged period of not-so-benign neglect. The first step in Flickr's reinvention occurred in January with the release of Flickr 2.0 for iOS, and now Yahoo has let loose a wholesale overhaul of Flickr's Web-based photo storage and sharing service—along with the release of an Android analog to its well-received iOS mobile app.
Yahoo has imparted a striking, bold look to the updated Flickr site, emphasizing social networking while showcasing large, high-resolution images and offering subscribers a whopping terabyte of free storage space. It's a far cry from the utilitarian but tired interface of the past, which featured tiny thumbnails, vanilla text and links, and severely limited uploading options.
Whether you admire or despise the Flickr update depends in large part on who you are and what you expect from the photo showcase. As a photo enthusiast and Flickr subscriber since 2007, I've had my share of complaints about the service, and like many users, I've looked forward to this long-awaited upgrade. Here's my first take.
Vivid new look
The new Flickr home page for the Web in many ways echoes the front cover of the mobile iOS app, emphasizing social networking features. Two-thirds of the horizontal interface is consumed by enormous images from your contacts and also from unknown people whom Flickr thinks you will like. Meanwhile, links to Groups, Explore, the Flickr blog, and other potential contacts Flickr suggests are listed on the remaining right-hand rail of the page. With the raft of new photo-centric communities springing up, it makes sense for Flickr to toss its lens into that arena.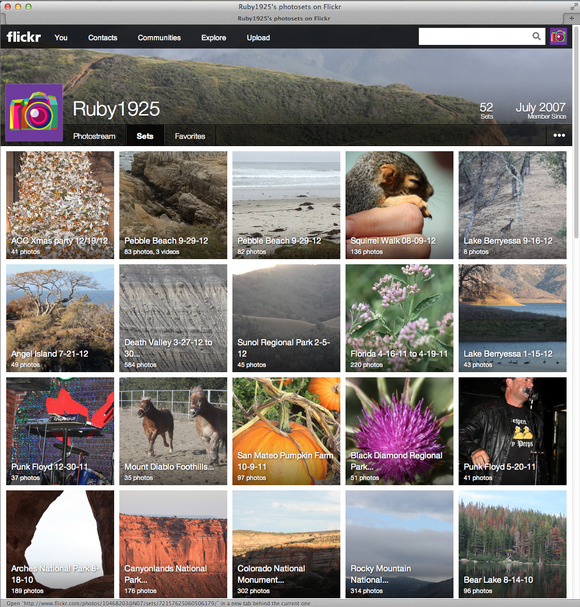 Attractive new photo set page.
Flickr has the right idea in emphasizing large photos. While some critics think the presentation is too brassy and in your face, I don't agree. Wall-to-wall images on a photo site? Sounds good to me.
The old Flickr, while tastefully conservative, suffered from too much white space and small type, and offered limited opportunities for rearranging the layout. The new design has somewhat rectified this: Images are larger, but the opportunity to change the layout is still limited.
The new home page only lets you see your contacts' new images without letting you decide what you would rather see first. Call me egocentric, but I would rather have the site open to my own photosets than solely images from my contacts—it disorients me to go to Flickr and see nothing but images I don't recognize. To remedy this problem, you can click on the You link, which reveals your own photostream and a pulldown menu leading to sets, maps, favorites, galleries, recent activity, and stats. In other words: Much of the stuff you used to see first. But there really should be a way to choose this as the default opener.