Overcast 2 review: a freemium podcast app adds streaming and goes totally free
The Overcast podcast app has switched from freemium to free, added streaming, and improved some of its custom audio settings—but it looks and works mostly the same.
The keenest critique of the original Overcast release is that it offered no streaming support: all podcasts had to be downloaded in full to play. While it had excellent background downloading, this remained a problem if iOS's various needs didn't align to pull down files when it should have, and you wanted to listen while out and about without sufficient bandwidth or data transfer remaining on a cellular plan to download quickly enough.
The new version supports both streaming and downloads, and offers a sometimes confusing intersection of settings. In Overcast's New Episodes settings, you can pick among Stream When Played, Download on Wi-Fi, and Download on Wi-Fi or Cellular. However, Overcast also has an entry in the Settings app, where you manage notifications, background app refresh (for downloads), and cellular data usage. And there's yet another entry in Settings > Cellular in the apps listing. With one misaligned combination of settings, you could have everything in the app set up the way you want, and be unable to stream or download except on Wi-Fi.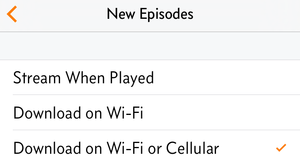 Overcast can be set to handle new episodes in three ways.
In practice, given that we have a family 15GB a month plan (with AT&T's one-month rollover data), I've made sure cellular use is enabled everywhere in Overcast. Most podcasts are in the 15MB to 60MB range, and I'm mostly on Wi-Fi networks. I doubt I use more than a few hundred megabytes a month for out-and-about podcast retrieval.
However, if you're trying to ensure you're using the least amount of cellular and Wi-Fi data (for those with broadband plans with caps or overage fees), setting New Episodes in Overcast to Stream When Played is a good choice while also disabling Cellular Data in Settings > Overcast and in Settings > Cellular. Every podcast that appears in your All Episodes feed as a new episode can be tapped to start a download over Wi-Fi. Or you can use the app-wide Downloads view and download them all at once. This breaks my particular want of not managing downloads, but it's a necessary option for some people.
The streaming-by-default option also helps those with low-capacity iPhones. In the previous Overcast, even with assiduous management of how many episodes I wanted to retain—which can be set per podcast and globally—I would find gigabytes of shows retained. Since I now use iCloud Photo Library and iCloud Music Library, my 64GB iPhone tends to always have ample remaining storage, even when I have nearly 4GB as I do at this moment. With an 8GB or 16GB phone or a configuration with more local music or photo storage, this can help conserve space.
Previous Page 1 2 3 4 5 Next Page