Overcast 2 review: a freemium podcast app adds streaming and goes totally free
The Overcast podcast app has switched from freemium to free, added streaming, and improved some of its custom audio settings—but it looks and works mostly the same.
New in version 2 is a Storage list—in Overcast's settings—that shows you the sum of all episodes, and then the space occupied by each one. You can tap Delete Downloads, and they're all removed. You can also swipe left on an individual episode to remove it (or on a podcast to unsubscribe), or in a playlist, tapping Edit at upper right and then selecting multiple episodes to remove at once. The swipe-left action is much more reliable than version 1, where I often found myself accidentally starting to play an episode instead of revealing Delete.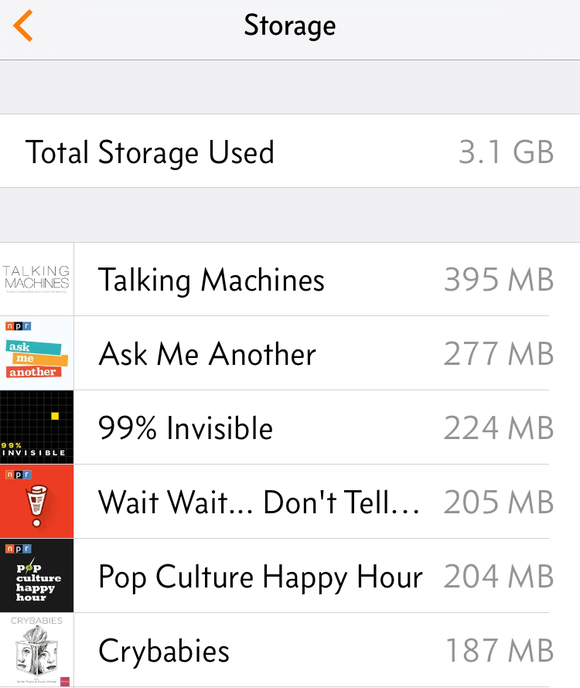 A new Storage view makes it easier to see what's taking up space and offers a simple way to delete by podcast.
Adding podcasts is fairly painless and ties in with show discovery. Tap the + button at upper right in the main view, and you can search Overcast's directory, which pulls from a number of sources. When I've launched new podcasts, Overcast seems to add them surprisingly quickly without any requirement to submit a podcast RSS feed URL to the service. In the search results, you can select a podcast, and then subscribe to it, or view episodes in its feed and pick one to download. (If you have a feed URL to add, tap Add URL and paste it in.)
Discovery is grouped into categories and becomes more powerful if you link in a Twitter, although that's not required. Version 1 featured curation by the developer; version 2 is entirely driven by Overcast users' use of the Recommend button that appears with each podcast episode. The app shows most recommended, most recommended by those you're connected with on Twitter, and then top shows in major categories as well as "collections," which are podcast networks. It's handy. You can even tap to subscribe to all the podcasts in a set.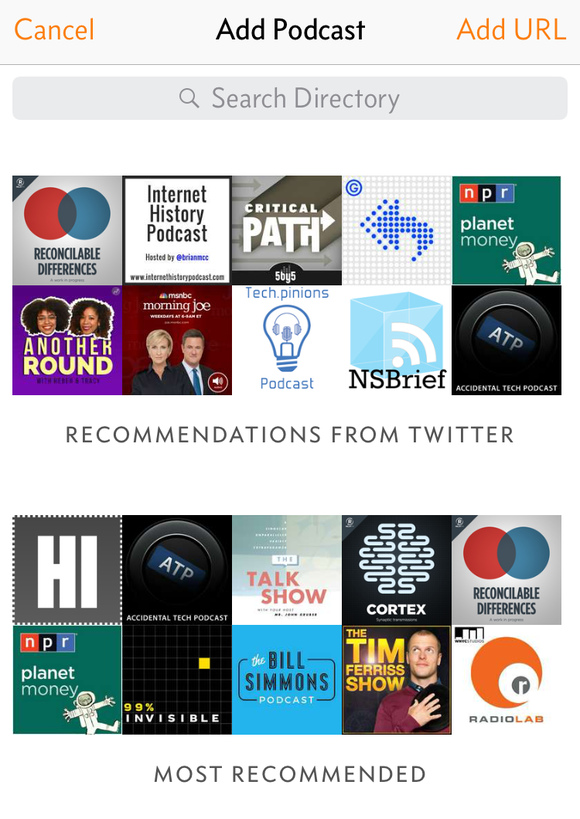 Recommendations are drawn from other Overcast users.
One of Overcast's roughest areas that I've always found maddening in version 1 remains in version 2. Tap a show to view details and after tapping to subscribe or download an episode, Overcast drops you back into its main view. To get back to the same recommendation list and position or same search, you have to repeat your actions, which is frustrating when you want to add multiple items from the same area.
Along similar lines, I find the "i" target to get information about a podcast in a list without playing it so small and precise that I constantly miss it. There's no good "jump back" option in Overcast, so starting a podcast you didn't intend requires navigating back to the previous one you were playing.
Previous Page 1 2 3 4 5 Next Page