Primed for pigskin: How to watch NFL football anywhere and on any device
Whether you're a cord cutter or a pay-TV addict, we'll show you all the ways you can watch this season's bone-crunching action on screens of any size.
But if you're a DirectTV subscriber and willing to shell out $252 on top of your regular subscription fee, you can get all 2015's out-of-market Sunday games plus the Mix Channel, which lets you watch four or eight live games on a single channel, and its Player Tracker, a fantasy football owner's dream that lets you keep tabs on up to 20 players.
Or for about $100 more, you can get the $354 NFL Sunday Ticket Max, which throws in NFL RedZone Channel, Direct Fantasy Zone (a channel devoted entirely to fantasy football), Short Cuts (entire games condensed into 30-minute commercial-free replays), and the ability to stream live games through the NFL Sunday Ticket app.
Streaming
You don't necessarily have to be a DirectTV subscriber to stream live games this season. Last year, the provider introduced its NFLSundayTicket.TV app and extended discounted subscriptions for online access to NFL Sunday Ticket to some non-DirectTV subscribers: (very) specifically, apartment dwellers; residents of metropolitan New York, Philadelphia, and San Francisco; and students at 10 select universities.
This season, DirectTV is extending that discount offer to all four-year colleges and universities. It has also expanded the list of devices games can be viewed on to include Google Chromecast, Xbox 360, Windows 10 and Roku. (Previously, the package was only viewable on Android and iOS devices or via the web, as well as on Sony PlayStation 4 and PS3, and Xbox One.) For information on packages, pricing and eligibility, check out the NFLSundayTicket.TV FAQ.
Outside of DirectTV, legal streaming options for NFL games are still limited. Since 2008, NBC offers an interactive broadband broadcast of its televised games, as it has since 2008, and Verizon subscribers with More Everything plan can live stream all nationally broadcast games through the NFL Mobile app.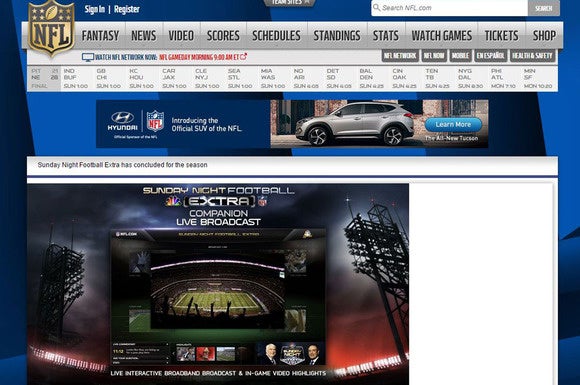 Fox will stream 104 live NFL games this season via its Fox Sports Go app and FoxSportsGo.com website, but you'll need a subscription to a pay-TV provider that carries Fox Sports.
Signs are afoot, however, that may soon change.
This season, for the first time ever, the NFL will live stream a regular-season game for free to a global audience. For this groundbreaking event, the league logically chose one of its International Series games in London: the Oct. 25 game between the Buffalo Bills and Jacksonville Jaguars will be streamed exclusively by Yahoo! ( Google, Apple, and Amazon were among those the league reached out to) and only televised in each team's home market. A 30-minute version will also be available on demand.
Previous Page 1 2 3 4 Next Page