The essential guide to powerline Ethernet adapters (including 12 hands-on reviews)
Powerline Ethernet adapters that use your home's electrical wiring are great supplements to Wi-Fi networks. We sort through the standards, HomePlug and G.hn, and review 12 models.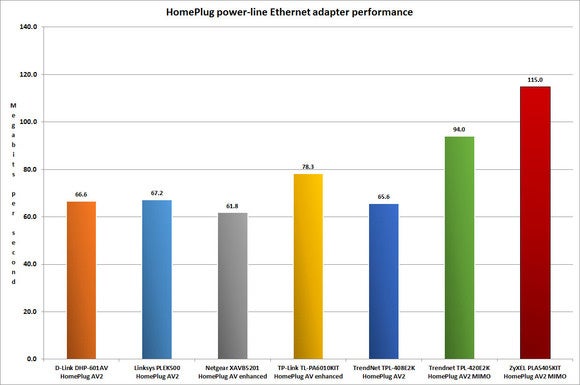 Apart from the ZyXel PLA5405, each of these adapters is based on the older HomePlug standard. Click on image to enlarge. Credit: Michael Brown
You can mix powerline and Wi-Fi devices, though, and most people do. You can also buy powerline-based Wi-Fi range extenders that create local wireless access points in rooms where your Wi-Fi signal can't reach. Powerline is a fantastic solution when Wi-Fi alone doesn't cut it, but Wi-Fi is much more convenient if for no other reason than Wi-Fi adapters are built into nearly every device (smartphones, laptops, tablets, media streamers). Plus, there's the whole "no wires" thing; heck, even newer set-top boxes and DVRs have gone wireless.
So which powerline device is fastest?
Two sets of performance graphs accompany this story. The first covers three HomePlug AV2 MIMO adapters and one adapter based on the G.hn standard that were tested in June 2015. The second chart reports the performance of adapters that were tested in January 2015: three HomePlug AV2 adapters, two HomePlug AV2 enhanced adapters, and two HomePlug AV2 MIMO adapters.
It's notable that HomePlug AV2 MIMO adapters took the first three places in this roundup: Extollo's LANsocket 1500 edged out the D-Link DHP-701AV, with ZyXel's PLA5405 finishing third. The only G.hn adapter in the roundup, Comtrend's PG-9172 took fourth place.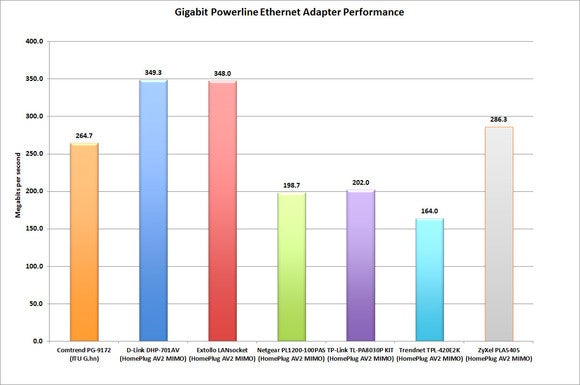 HomePlug AV MIMO adapters deliver the highest performance. Click on image to enlarge.
Unless you're on a very tight budget, avoid older and cheaper powerline adapters. Their performance pales in comparison to the newer products. If your home has a limited number of electrical outlets, you might want to buy an adapter that has a power passthrough, even if you end up sacrificing a little performance in the process.
As for the standards battle, it wouldn't be fair to declare a winner based on the performance of the only G.hn adapter I've tested; namely, Comtrend's PG-9172. Having said that, the PG-9172 is less expensive than all the other adapters, and it was faster than Netgear's PLP1200. On the other hand, the two remaining HomePlug AV MIMO adapters—D-Link's DHP-701AV and ZyXel's PLA5405—were faster still.
Previous Page 1 2 3