Customers petition Microsoft CEO Satya Nadella, demand changes to Windows 10 update practices
'We have a right to know what you are placing on our computers,' says one signer of Change.org petition that asks Microsoft to cede more control of updating to users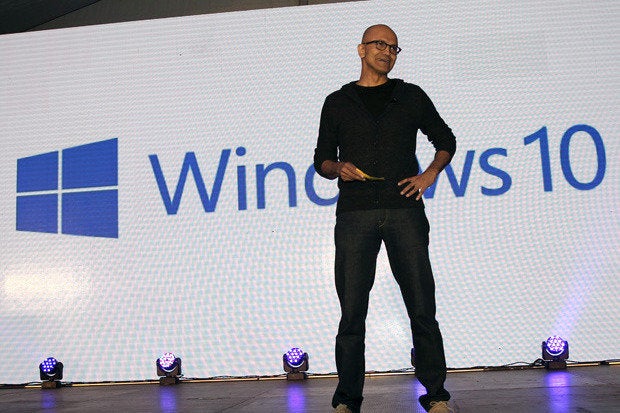 Microsoft CEO Satya Nadella addresses delegates during the launch of the Windows 10 operating system, July 29, 2015. Credit: REUTERS/Thomas Mukoya via Computerworld.
Windows 10 users have petitioned Microsoft's CEO to let them not only delay feature and functionality updates, but also ignore them, a plea that if granted would upend the company's model of delivering the OS as a service.
The Change.org petition had collected more than 1,600 virtual signatures as of early Saturday.
"To effectively implement and use Windows 10 in our homes and businesses, Microsoft must make changes to both the operating system and the policies the company put in place to support the new OS," wrote Susan Bradley, who initiated the petition a week ago and aimed it at Satya Nadella, Microsoft's chief executive.
Bradley, a computer network and security consultant, is best known in Windows circles for her expertise on Microsoft's patching processes: She writes on the topic for the Windows Secrets newsletter and is very active on the PatchMangement.org mailing list, where business IT administrators discuss update tradecraft.
In late August, Bradley kicked off a Windows 10 request on Microsoft's own Windows User Voice website, asking the company to provide more information about the OS's updates. The Change.org petition was more expansive: Bradley asked Microsoft to also change how it delivers Windows 10 updates.
"We need the ability to delay or hide damaging updates that impact the computing experience, have undesirable side effects such as blue screens of death, or reduce the functionality to attached devices," Bradley wrote. "As long-time Windows users, we understand the need to have quicker and more agile security updating. But this agility should not introduce additional risks to our systems."
Bradley also called on Nadella to push his Windows team into giving users more information than the cryptic, boilerplate text that accompanies each update. "Microsoft should provide detailed information ... along with what system changes we should see. We applaud the cumulative-update model, but the lack of documentation doesn't let us perform the due diligence required for safely deploying and maintaining Windows 10 systems in our organizations."
Supporters echoed Bradley's requests as they added their names to the petition.
"These changes are necessary if Windows 10 is to succeed. Keeping users in the dark and force-feeding updates with no recourse is not acceptable in an era of 'more personal' computing," wrote Dennis Barr on Friday, using the phrase Microsoft has adopted for one of its segments, the "More Personal Computing" group that encompasses Windows and the firm's own devices.
"Having no control of when and what updates are applied to the OS, especially from a business network environment, is folly," added Aaron Jervis, also on Friday.