End the clutter: How to organize your Mac menu bar
The Mac's menu bar is a handy place for quick access to apps and system preferences. But it can easily be a crowded space.
The $15 Bartender can solve this problem. It allows you to reorganize all your menu bar extras, creating a second bar that only displays on demand. You can also rearrange all the menu bar extras with Bartender, whether they're part of OS X or come from third-party apps.
Adding Menu Bar Extras
For third-party menu bar extras, as I said above, each app has a setting, and you may add or remove some of these. To add system items, you need to go into System Preferences. For example, the Wi-Fi menu bar extra setting is in the Network pane; the User extra setting is in Users & Groups; the Volume setting is in Sound; and so on.
There are some other menu bar extras you can add, but only if you know where they're hiding. If you go to /System/Library/CoreServices/Menu Extras you'll find two dozen items you can add to your menu bar. Double-click any of these to add them to your menu bar.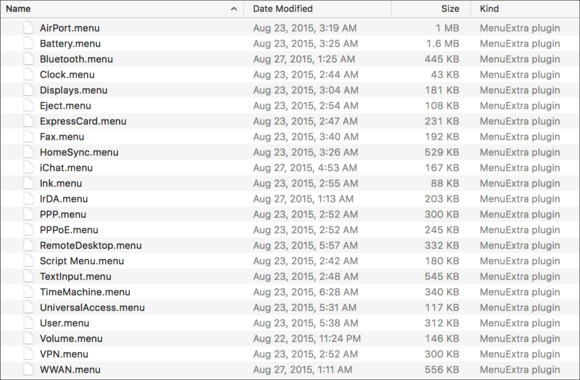 A hard-to-find folder contains a number of useful menu extras.
Some of these are available from System Preferences, but not all. For example, I use the Eject menu extra to be able to eject discs from my optical drive; and if you like to use AppleScripts, you may want to add the Scripts menu extra.
Menu bar extras are useful, but only if you don't get overwhelmed. Taking control of your menu bar can make you more efficient, and save you time.