Enterprises face Windows 10 support deadlines as service model kicks into gear
Rapid release tempo also means rapid retirement cadence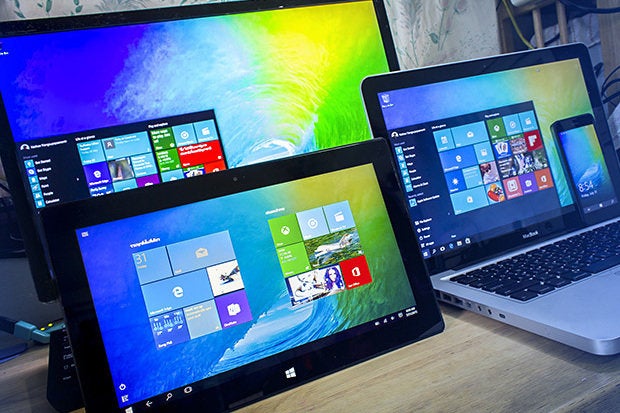 Enterprises that have adopted Windows 10 will face the demise of three versions of the operating system in the next 18 months, and so for the first time will be forced to keep up with the faster release and retirement cadence Microsoft has embraced.
In March, Microsoft will end support for Windows 10's debut version, the build launched in July 2015. While the version -- designated 1507 in the company's year and month nomenclature -- will continue to work, security updates will cease, probably after Microsoft delivers the month's Patch Tuesday fixes on March 14, 2017.
After that date, devices assigned to what Microsoft calls "Current Branch for Business" (CBB) -- the release track that most commercial PCs have been assigned to -- must be updated to a build newer than 1507 to continue receiving vulnerability fixes.
While Microsoft's concept for Windows 10 was predicated on a cadence much more rapid than before -- new versions with new features were to arrive up to three times a year -- the need for business customers to adhere to the tempo was delayed because none of the builds thus far have been retired.
Corporate IT administrators have been able to deploy any of the first three versions of Windows 10, and more importantly, leave them in place. Upgrades, a crucial part of the "Windows as a service," have not been required.
That will change because of the support policy Microsoft has crafted for Windows 10. The company has pledged to support at least two CBB builds concurrently, which means that at the release of N+2, where N equaled the oldest version, the company starts a 60-day-or-so countdown. At the end of the 60 days, N drops off the support list.
When the summer's Anniversary Update -- labeled 1607 -- shifted to the CBB last week, N equaled 1507; N+1 represented 1511, the November 2015 upgrade; and N+2 equaled 1607. That meant 1507 support is to be shuttered two months from the January availability of 1607 in the CBB, or in other words, in March.
Windows 10's schedule was originally explained by Microsoft as a finely tuned machine that would issue a new version every four months, with each build supported for 12 months before it was retired. Those using the to-be-retired version would be required to upgrade if they were to continue receiving security patches.
Since then, the company has both struggled to meet that tempo and adjusted to a more realistic cadence. Along the way, Microsoft also changed some of the ground rules. It backed away from the thrice-yearly schedule, quickly pivoting to a slate of two upgrades annually (and only one in 2016). And rather than support a version for only 12 months, it has promised to patch a version of Windows 10 for at least 18 months.