Microsoft antagonizes users with intrusive new Windows 10 upgrade tactics
Says one approach was 'a mistake' even as users struggle to stop the OS from installing.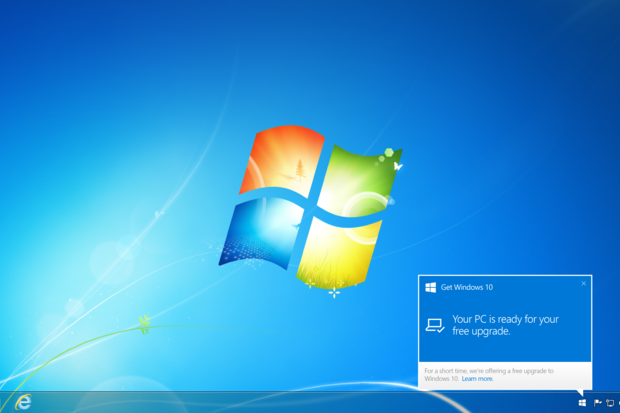 Credit: MIcrosoft
Microsoft has gone aggressive -- far too aggressive, say some -- in its push to get users onto Windows 10, including setting the upgrade to automatically download through Windows Update, and on some PCs, blocking all other updates from installing and offering only the choice of upgrading to the new OS or delaying the deal for 48 hours.
Perhaps coincidentally, the latest stratagems coincided with a noticeable increase in Windows 10's usage share, a measure of an operating system's online activity, as tracked by Irish analytics vendor StatCounter.
Microsoft has acknowledged one of the ways it's been plugging Windows 10, but said it was a mistake and backed off the ploy.
"As part of our effort to bring Windows 10 to existing genuine Windows 7 and Windows 8.1 customers, the Windows 10 upgrade may appear as an optional update in the Windows Update (WU) control panel," a Microsoft spokeswoman said in an email Thursday when replying to Computerworld's questions. "This is an intuitive and trusted place people go to find Recommended and Optional updates to Windows. In the recent Windows update, this option was checked as default; this was a mistake and we are removing Windows 10 from Windows Update for users that have not reserved a copy of Windows 10."
Microsoft was referring to a behavior noted by Windows 7 and Windows 8.1 users since at least mid-September, when some started seeing "Upgrade to Windows 10 Home" or "Upgrade to Windows 10 Pro" in Windows Update, the consumer- and small business-grade update service.
That item appeared in the "Optional" section of Windows Update's listing of available patches and fixes on Windows 7 and 8.1 devices. Normally, updates pegged as Optional will not download to a PC -- whether automatically or in a manual check -- until the user has ticked a box.
However, recently -- earlier this week according to users' reports -- Windows Update itself checked the "Upgrade to Windows 10" optional update as eligible for download and installation. Users with Windows Update set to automatically retrieve and install updates -- the norm, and the setting recommended by Microsoft -- or who did not examine the optional update list, were then served with the Windows 10 upgrade, whether they wanted it or not.

Although Windows Update wants to start installing Windows 10, clicking on the link "Show all available updates" is still visible, and will lead to other updates. Credit: Josh Mayfield
The actual upgrade process required -- as it always had -- some additional user interaction to complete, however.