Microsoft's new Windows 10 build allows you to text from your PC, but it's the bug fixes that impress
Unfortunately, it requires an upgrade from Windows Phone 8.1 -- again.
Microsoft released build 10549 of Windows 10 about a week ago, which also required users to upgrade from (or first downgrade to) Windows Phone 8.1 before applying the update. That build included improvements to the Messaging app, and Aul said then that the upcoming mobile build would share the Skype messaging improvements added to Build 10565 of Windows 10.
Those improvements include Skype integration through the Messaging, Phone, and Skype universal Windows apps, Aul said Tuesday. Additionally, the Messaging app now supports animated GIFs and the ability to search your messages; the Phone app also has the ability to search your call history.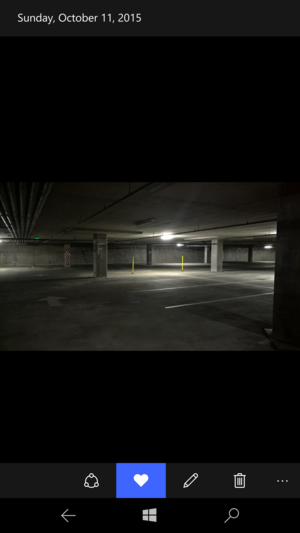 With the most recent update to the Photos app, you can now mark local photos on your phone as favorites and have them shuffle on the Live Tile, Microsoft says. Credit: Microsoft
If you're also running preview build 10565 or higher of Windows 10, your phone can now send an alert that you received a text. At any time, you can tell Cortana to "text," and she'll send one to a recipient, as well.
Some nice bug fixes
While the new features are nice additions, it's the additional bug fixes that should have preview users excited. They include, according to Microsoft:
Notifications, such as new messages, can be received without first unlocking the device.
Cortana's background activity has been optimized for power usage.
Microsoft has fixed some of the issues that were causing the Start screen to not load, and improved the performance.
Events in the Action Center can now be dismissed via swiping.
The new preview also comes with some bugs, however, including visual voicemail being broken on some devices, photos not being shared with third-party apps, and an odd bug that prevents devices that have been updated from Windows Phone 8 to 8.1 and then to Windows 10 from connecting to Wi-Fi or from updating to Windows 10 builds altogether.