Review: Windows 10 Anniversary Update fails to excite
The new upgrade introduces small improvements across the board, but nothing to sway Windows 7 stalwarts
While the Windows 10 cumulative updates have brought on a lot of wailing and gnashing of teeth -- with installs taking hours and hours, sometimes failing to complete -- we haven't seen any fatal, show-stopping bugs in the patches. The only consistent problem with the cumulative updates is that they fail to install on many machines, for obscure reasons.
In the following sections, I talk about the features that have been improved in Windows 10 Anniversary Update (version 1607) compared to the earlier Fall Update (version 1511). I talk about what's new for enterprise. Then I look at the near-term future of Win10.
What's new in the Anniversary Update
The list of new and improved features in Windows 10 Anniversary Update includes a reformatted Start menu, improvements to Tablet mode (bringing back some features in Windows 8.1), new Cortana capabilities, a much-needed reworking of notifications, new Taskbar features, a Universal Skype client, an upgrade to Settings, Lock Screen improvements, and the introduction of Windows Ink for pen and finger input.
There truly is something for everyone, and even Microsoft has its pet points. Istepped through most of these features in April, when they appeared in beta build 14328. Here's an update.
A better Start
The Anniversary Update Start menu works exactly like the Fall Update Start menu, but it's been rearranged a bit. Instead of an All Apps list, all of the apps simply appear when you click the Start icon, in a massive scroll-down list that should look familiar to any Windows 10 user.
The other big difference: Any recently installed apps (up to three) bubble up to the top of the list, as you can see in the screenshot below.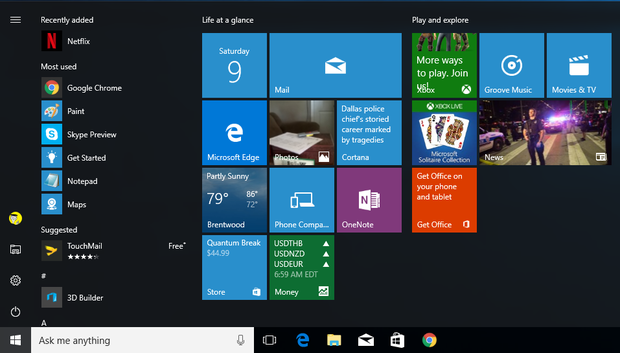 There are minor cosmetic changes in the new Start, but nothing of substance, unless the presence of a hamburger menu gets your wickers in a twist, or you like to debate the colors on the File Explorer icon. Tablet mode gets a little more Start love in the Anniversary Update, with an All Apps view in addition to the old tiles and a disappearing taskbar.
The "Suggested" Start item appears by default, as you can see in the screenshot. It's easy to turn off (Start > Settings > Personalization > Start > Occasionally show suggestions in Start).
As has always been the case, we have few of the Start menu customizations that were so useful in Windows 7. To get them back, you have to turn to third-party utilities like Start10 or Classic Shell.
Cortana turns the corner
Cortana is getting smarter all the time. In my experience, it's not nearly as smart as Google Now, but it's definitely getting better. In build 1511, you had to train Cortana before it would work; it also had a universal off switch. That's changed in the Anniversary Update.
Previous Page 1 2 3 4 5 6 Next Page