Windows 10 Anniversary Update: Everything you need to know
Microsoft's biggest update to Windows 10 is set to drop August 2. Here's what you need to know to get ready for the big day.
It's almost here. Microsoft's Anniversary Update (AU) for Windows 10 rolls out to users on Tuesday, August 2. The second major update to Windows 10, the Anniversary Update promises a ton of new features.
Everything you need to know
Windows Insiders have seen sneak peeks of AU features in preview builds over the past few months, including big changes like extensions for Microsoft Edge, the ability to run a third-party antivirus suite alongside Windows Defender, full-screen Game Bar support, multi-account switching for Skype's Universal Windows Platform (UWP) app, and smarter inking features via Windows Ink.
All the Anniversary Update changes aren't necessarily for the better, however. In mid-May, we learned that Microsoft may increase the number of promoted app tiles in the Start menu. There's also an insane rumor that Windows-watcher Brad Sams recently reported on in his podcast: that internal AU builds at Microsoft include pop-up advertisements for apps and games when you have the Windows Store pinned to your taskbar. It's far from clear, however, if this is just an internal test that will never see an actual release, or a desperate attempt to get more users to engage with the Windows Store that might actually see the light of day.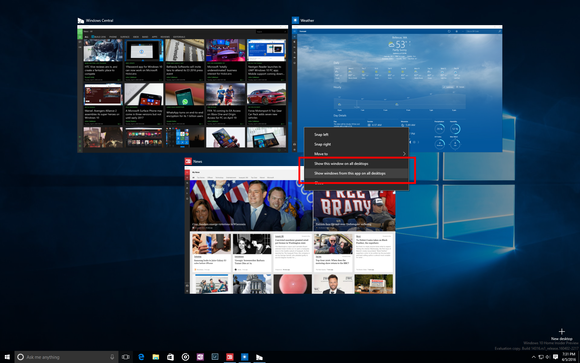 While Microsoft will be rolling out new Insider previews between now and August 2, we don't expect another build with major new features before the big day. At this point, the company has enough on its hands just squashing bugs and fixing any other outstanding issues.
For non-Insiders who've already upgraded to Windows 10—remember, the deadline to get the free upgrade is July 29—the Anniversary Update will land on your PC via Windows Update. The rollout will happen gradually, beginning August 2, "given the scale of delivering updates to more than 350 million devices around the world," Microsoft told PCWorld in a written statement. "Our rollout will be measured and deliberate to ensure we deliver a great customer experience."
If you don't receive the Anniversary Update automatically go to Start > Settings > Update & security > Windows Update, and then click Check for updates. This should force the Anniversary Update for your PC.
If that doesn't work, the AU will also be available via Microsoft's Windows Media Creation Tool. This is a great backup plan for anyone having trouble accessing AU via the regular Windows Update. The MCT was designed for new installations, but many people also use it as a way to do an in-place upgrade.