Windows 10 Anniversary Update: Everything you need to know
Microsoft's biggest update to Windows 10 is set to drop August 2. Here's what you need to know to get ready for the big day.
Microsoft advises that you'll need roughly 3GB of internal storage space for the Anniversary Update, and don't forget to do a backup before the big day arrives. For a more detailed look at how to get ready for the AU update, check out our previous tips on preparing for a hassle-free Windows 10 upgrade.
Some of the features the AU promises
The Anniversary Update promises to bring Windows 10 closer to the operating system we all want it to be. The AU beefs up inking capabilities, and offers deeper integration between your PC and mobile device via Cortana (iPhones not include). There will also be improvements to Edge, making it a web browser you might actually want to use, and—for you hard-core types—a Linux Bash shell.
Check out our previous list of all the biggest improvements coming to Windows 10 with the Anniversary Update, as well as our story on the features users are clamoring for. Below are other changes we're excited about:
Re-designed Start menu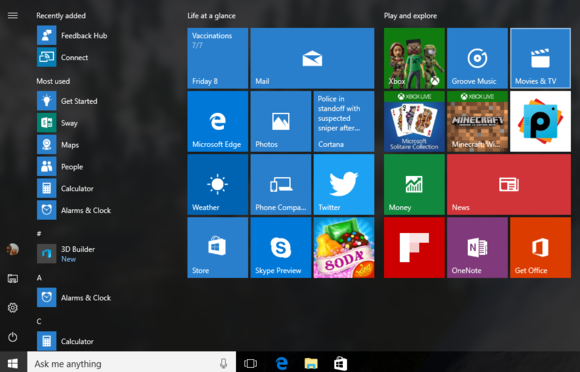 The default Start menu in Insider build 14383.
The Start menu is getting a few tweaks that will make it a little different than what you have now. The most noticeable change is that the All apps option is gone. Instead, you'll just get the alphabetized list of apps and programs the minute you open the Start menu. Meanwhile, items like the power button, the Settings app, and your account picture will move under a "hamburger" menu icon on the upper-left side.
'Chaseable' Live Tiles
Right now, if you click on a Live Tile in the Start menu it takes you to an app's homepage. After the Anniversary Update, if you see an interesting game on the Windows Store tile, for example, clicking on the icon takes you to that game's page in the app. It's a small but intuitive change.
The iPhone on your taskbar
Microsoft is going nuts with notifications in the Anniversary Update. You'll be able to get phone notifications on your PC, the Action Center is getting a revamp (we'll talk about both of those shortly), and Windows apps will soon get a notification count badge on the taskbar. This is similar to the notification count badge iPhone and Windows 10 Mobile users see on their devices.
Web notifications in Action Center
One final addition for Edge will be support for website notifications. If you currently use Chrome and get alerts from Facebook even when the site isn't open, then you're familiar with web notifications. A big difference with Edge's notifications, however, is they'll live in the Action Center with all the rest of your notifications, unlike Chrome's.