Windows 10 Anniversary Update review: Cortana, Edge overshadow Windows Ink
The improvements Microsoft has made on features you use every day are what really matter.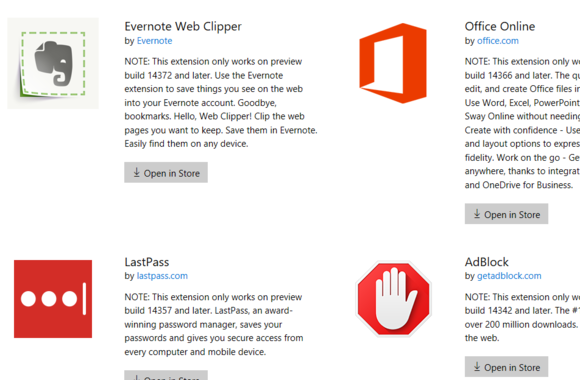 More than a dozen extensions add some long-awaited, and much-needed, extensibility to Microsoft's Edge browser.
The Anniversary Update code now contains support for extensions, a feature the original version of Edge notably lacked. At press time, 13 Edge extensions are available via the Microsoft Store, none of them fluff: AdBlock and AdBlock Plus, the LastPass free password manager, an Evernote Web clipper, and more. They're easy as pie to install: Simply go to the ellipsis menu at the upper right, scroll down to Extensions, and install them like any other app. (For more detail, check out PCWorld's guide to effectively using Microsoft Edge).
Whether you like the new Edge depends on whether you have an ad blocker installed. Without it, web browsing still remains choppy. With it turned on, though, Edge now is in the same league as other browsers, rendering webpages about a second slower than the competition. I still found Edge somewhat unstable, though, crashing on media-rich pages at such sites as CNN.com and SFGate.com even with ad blocking on. Fortunately, such crashes rebooted the tab, with no apparent ill effects to the other tabs. I just hope that the crashes can be chalked up to a bad ad, rather than an issue with the Edge code.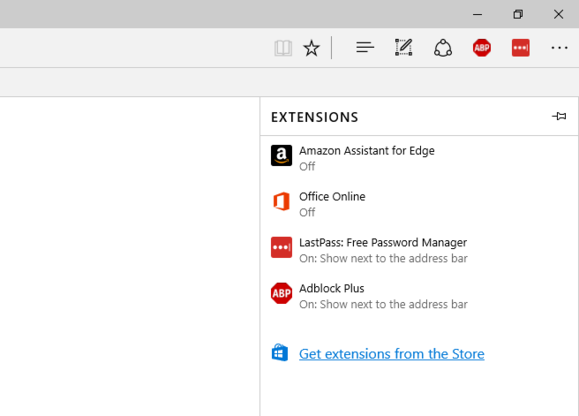 The new Edge extensions sit in the upper right, and can be accessed via the ellipsis menu. Note that you can turn them on or off as you wish.
We all shop online, and Edge has added a few handy features. Edge is integrated with Cortana, so the digital assistant will return results using Bing and Edge, that she can't find herself. Better still, when you visit a shopping site like BestBuy.com, she'll offer you a coupon. (Check out the MacBook Air discount!)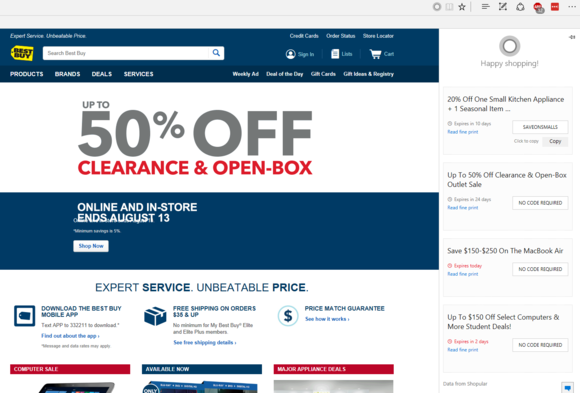 Visit a site like Target.com or BestBuy.com, and Cortana will offer a coupon to help you shop.
Right-click an image (of a dress, lawn mower, or whatever) and Cortana will pull up a sidebar with price and availability at various online locations. I'm not ready to call Edge a great browser, but it's risen to the level of acceptable.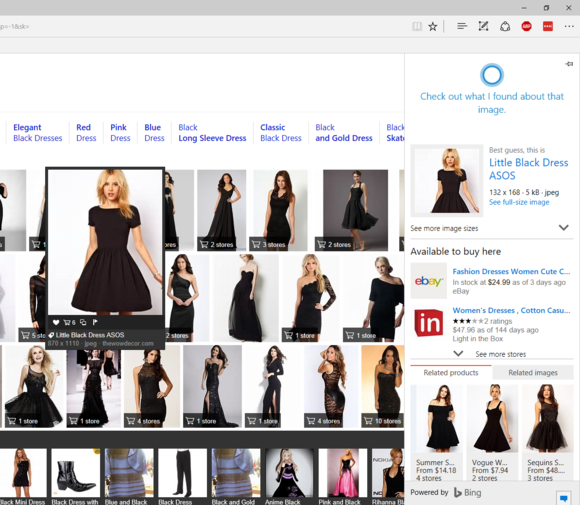 Microsoft Edge allows you to right-click an image and "ask Cortana" to find places where you might be able to buy the object in question.
Previous Page 1 2 3 4 5 6 7 8 9 10 Next Page