Windows 10 Anniversary Update review: Cortana, Edge overshadow Windows Ink
The improvements Microsoft has made on features you use every day are what really matter.
No, it's not. That was simply wrong. OneDrive is a mess, and the placeholder files simply should be there today. Fortunately, OneDrive meets me halfway: It's an app that functions like the OneDrive website, listing the files you've stored in the cloud. It's also slow. But you can drag files into the app and OneDrive will upload them, so it's almost, but not quite as good, as a dedicated folder.
Windows Store: The triumph of UWP apps
Two things are noteworthy about the Windows Store: the new apps and descriptions that populate it, and the unnecessarily poor redesign that Microsoft forced onto it.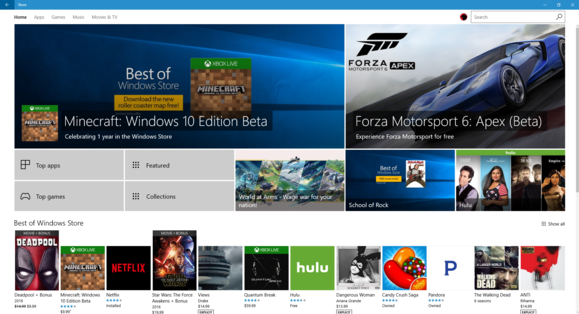 The front page of Microsoft's Windows Store app.
Microsoft's Store app is already hamstrung by two issues: its relatively low app count (669,000 Windows Store apps as of September 2015, versus 2 million or so for Android and iOS) and its need to push those apps at you. Unfortunately, Microsoft's Store redesign doesn't help.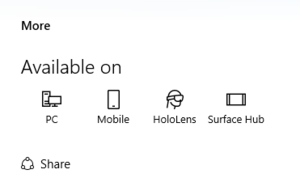 Noting all the platforms a particular app runs on is one sign that Microsoft is unifying the Windows Store.
Customers obviously weren't scrolling down the page to find the "top apps" or "featured apps," so Microsoft plopped four ugly boxes up top to capture your eyeballs. But what's the difference between "top apps," "featured apps," "collections," "Best of Windows Store," as well as "Picks for you"? Take it down a notch, Microsoft. We'll get there.
If you don't go beyond the first page of the Store, though, you'd never guess that Microsoft suffers from an "app gap" between itself and Android—almost everything on its front page is of high quality. Individual app pages have also been improved, clearly spelling out which platforms they run on, including mobile and PC. App ratings now can be viewed just for the latest version, which is handy. We still need some indication of how many downloads an app has, though, and when the most recent version was published.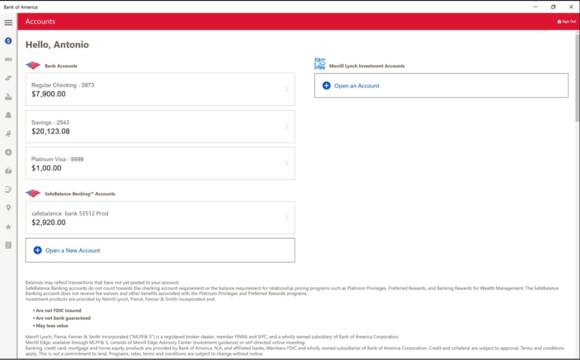 Higher-profile brands like Bank of America add some much-needed credibility to Microsoft's app portfolio.
Kudos to Microsoft for at least trying to elevate its Windows 10 reputation with a series of higher-profile game titles, though. These are the somewhat controversial UWP apps that straddle both Windows 10 and the Xbox One, including games like Quantum Break, Rise of the Tomb Raider, and even a nifty freebie, Forza Motorsport 6: Apex. Microsoft's purchase of Xamarin has apparently paid off with new, quality apps: Bank of America, Hulu, Fox Sports Go, Plex, and others. Let's hope it continues.
Previous Page 1 2 3 4 5 6 7 8 9 10 Next Page