Windows 10 Anniversary Update: The good, the bad and the 'meh'
The new version of Windows 10 is a solid, if not dramatic, upgrade. Cortana haters, though, won't be happy.
I tried a few others as well. Mouse Gestures worked as promised, allowing me to do things such as close tabs with a simple move of the mouse. But it only works with a mouse, not with a touchpad, which is problematic for people with laptops. On the other hand, Microsoft Translator performed well -- when I was on a foreign-language web page, a translate icon showed up at the right of the address bar; I just had to click it to translate the page.
Clearly, Microsoft still has a long way to go when it comes to Edge extensions. Google Chrome has tens of thousands of extensions; it's not likely that anyone will abandon Chrome for Edge so they can use the 13 extensions currently in the Microsoft Store.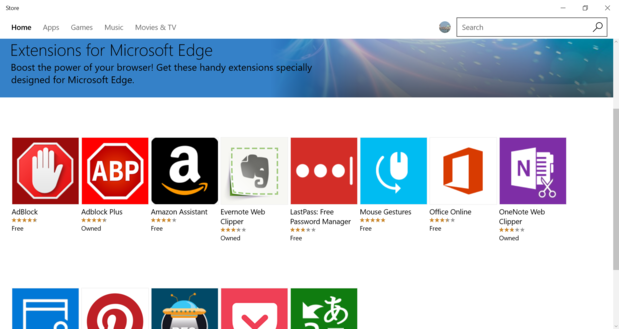 Microsoft Edge finally can use extensions --- but not a lot are available yet.
People who hate Adobe Flash ads will welcome the new Edge, though. Edge now determines whether Flash content is integral to the page you're on and auto-pauses any non-essential Flash content (such as ads). Any Flash content that is important to the page, such as news videos, won't be auto-paused. Want to see that ad after all? You'll be able to manually play the content if you want.
All this does more than just stop an annoyance. Flash also eats up battery life, so auto-pausing Flash ads should help laptops last longer when running on battery. And it will help pages load more quickly and be more responsive as well.
In my tests, I found that Flash-blocking worked well. Edge successfully auto-paused every ad on a page full of sample flash ads. Clicking the play button on each played the ad.
Keep in mind, though, that this won't block every Flash ad. Many sites automatically play videos as an integral part of their core content -- and often an ad plays before the content does. Edge doesn't block those ads.
Edge has been updated in other ways as well:
Microsoft claims the browser now uses fewer CPU cycles and less memory than before, for faster browsing.
The browser supports swipe gestures so that you can navigate between web pages by swiping forward or back.
If you right-click the Back button on the upper right of Edge you'll see a history menu, so that you can quickly go back to any page you've visited.
Edge has added support for web notifications, so that sites can send you notifications that appear in the lower-right corner of Edge and also appear in the Action Center.
Edge has clearly been improved in this update. But a lack of extensions means that it will remain an also-ran to better browsers, notably Chrome. I, for one, won't be abandoning Chrome for Edge.
Previous Page 1 2 3 4 5 6 7 8 Next Page