Windows 10 Anniversary Update: The good, the bad and the 'meh'
The new version of Windows 10 is a solid, if not dramatic, upgrade. Cortana haters, though, won't be happy.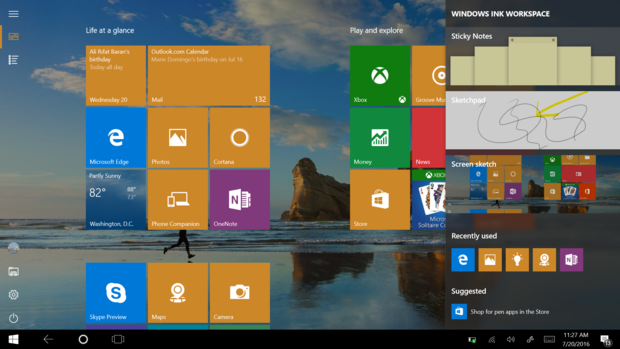 Windows Ink makes it easy to use a stylus to write on touch devices.
Tap or click the pen icon in the taskbar. The Windows Ink Workspace appears on the right side of the screen, with three available apps: a sketching app called Sketchpad, a sticky note app called Sticky Notes and an app for annotating screenshots called Screen Sketch.
All three apps are serviceable, but none is particularly groundbreaking. As someone who is incapable of drawing a straight line, though, I found the ruler features of Sketchpad quite useful, because it lets you use a virtual ruler with a stylus to draw a straight line the way you can with a real-world pencil and ruler.
The Windows Ink Workspace also displays the icons of other apps that work with Windows Ink, such as OneNote. Tap any icon to launch the app.
Action Center gets an update
The Action Center, which displays notifications in a pop-up panel on the right side, gets a few tweaks as well. You won't find anything dramatic, and if you're not a fan of the Action Center, nothing here will make you want to use it. I rarely use it, and I found nothing in this new release to change that.
For example, you can now set priorities for which apps are more important than others and have their notifications show up at the top of your notification lists. Go to Settings > System > Notifications & actions, then scroll down to the "Get notifications from these senders" section and click an app. At the bottom of the screen you'll see settings for three levels: Normal, High and Top, with Normal being the lowest priority and Top the highest. Choose the one you want.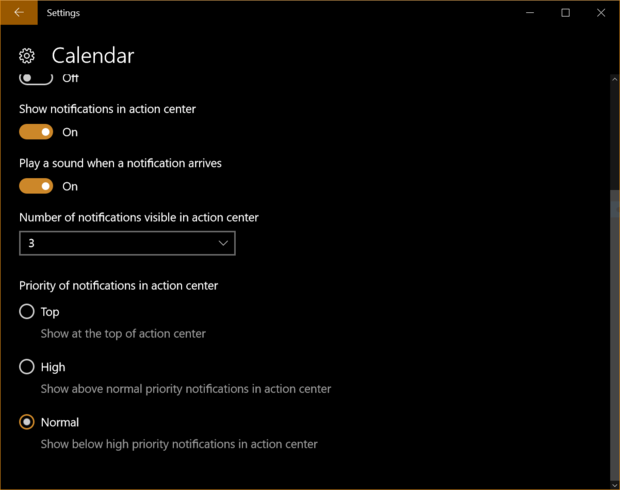 You can now customize the priority of notifications in the Action Center.
You can also adjust how many notifications can be visible at any time in the Action Center for any app. The default is three. To change it, click "Number of notifications visible in action center," and select a number from the drop-down list (you can choose one, three, five, 10 or 20).
The Action Center icon on the taskbar has been moved to the far right to make it easier to see. It now displays the number of notifications you have. And the actual notifications displayed in the Action Center can now show content grabbed from the app's live tile, making them a bit more useful than previously.
You can also change the location of the Quick Action buttons in the Action Center, although you can't change it from directly inside the Action Center. Instead, you have to go to Settings > System > Notifications & actions, and in the Quick Action section, drag and drop any icon to where you want it.
Previous Page 1 2 3 4 5 6 7 8 Next Page