Windows 10 Anniversary Update: The good, the bad and the 'meh'
The new version of Windows 10 is a solid, if not dramatic, upgrade. Cortana haters, though, won't be happy.
Once it's downloaded, you'll get a notification that you need to restart your PC. After it restarts, go to Control Panel > Programs > Turn Windows features on or off. Check the box next to Windows Subsystem for Linux and restart your PC. Then type Bash into the search box next to the Start button and press Enter. You'll see a command line. Type Y and press Enter to continue with the installation, which downloads the Bash on Ubuntu app from the Windows Store.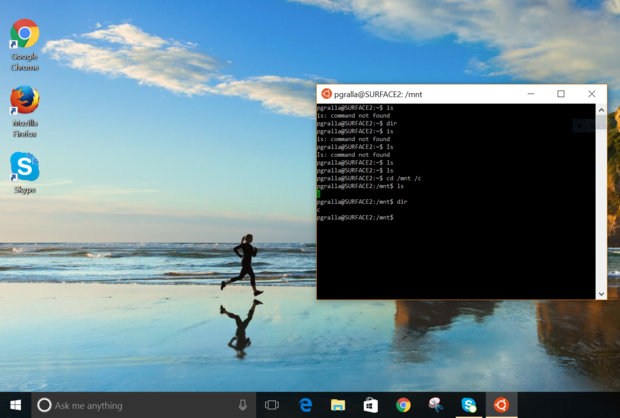 You can now run a Linux Bash shell inside Windows 10.
After it downloads and installs, you'll have to create a user account and password. At that point, you can run the Bash shell and the app will show up on the Windows 10 All Apps list.
Windows 10 goes to the dark side
In the Anniversary Edition, you can paint Windows black -- so to speak. The OS will now include a dark theme. But don't be surprised if that dark theme turns light again inside apps, because some third-party Windows apps control their own theme settings rather than relying on Windows to do it.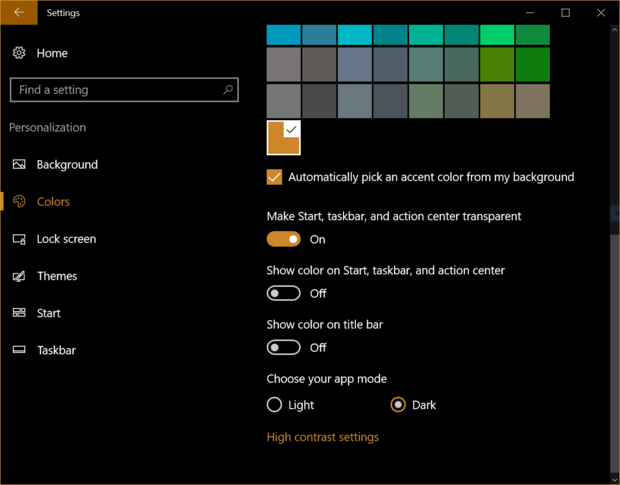 Windows 10 now has a dark theme.
If you're in a dark mood, go to Settings > Personalization > Colors, scroll down to "Choose your app mode," and select Dark.
But wait -- there's more
You'll find other changes in Windows 10 as well, most of them minor:
Microsoft's fingerprint sensor technology (called Windows Hello) can now be used not just to log into Windows itself, but also in Windows apps and websites -- just as long as those apps and sites use the technology, and you have hardware that supports it.
There are new emojis.
You can control your power use better by deciding which apps should be allowed to run in the background; you can also let Windows decide based on how the operating system determines how each app will affect battery life. Just go to Settings > System > Battery > Battery usage by app and click any app. You can choose whether to always let it run in the background, never let it run in the background or let Windows decide.
The Calendar app now integrates with the Notification area. So if you click the day and time, the calendar pops up as a sidebar that lists appointments, notes and reminders. Click any other day in the sidebar to see appointments, notes and reminders for that day as well.
Bottom line
There's nothing dramatic or groundbreaking in the Windows 10 Anniversary Update. Cortana is moderately more useful, the Start Menu has gotten a few useful tweaks, the Action Center is marginally better and the Edge browser finally gets extensions (although there are so few of them, it doesn't make much of a difference).
Previous Page 1 2 3 4 5 6 7 8 Next Page