Windows 10: How to type emoji on your PC using the Fall Creators Update
Why should smartphones have all the fun?
Microsoft's emoji keyboard in Windows 10 tablet mode looks lovely. Unfortunately, the only way to reproduce this on a "desktop" PC is to run a Windows tablet in tablet mode, while configured as a desktop. And yes, that's as confusing as it sounds.
How to launch the emoji keyboard within Windows 10 (and the FCU)
Once the Fall Creators Update drops, here's how to launch the emoji keyboard within Windows 10: either use the WIN + . (the period punctuation mark) key, or else the WIN + ; (semi-colon) key. Either will open the new emoji keyboard.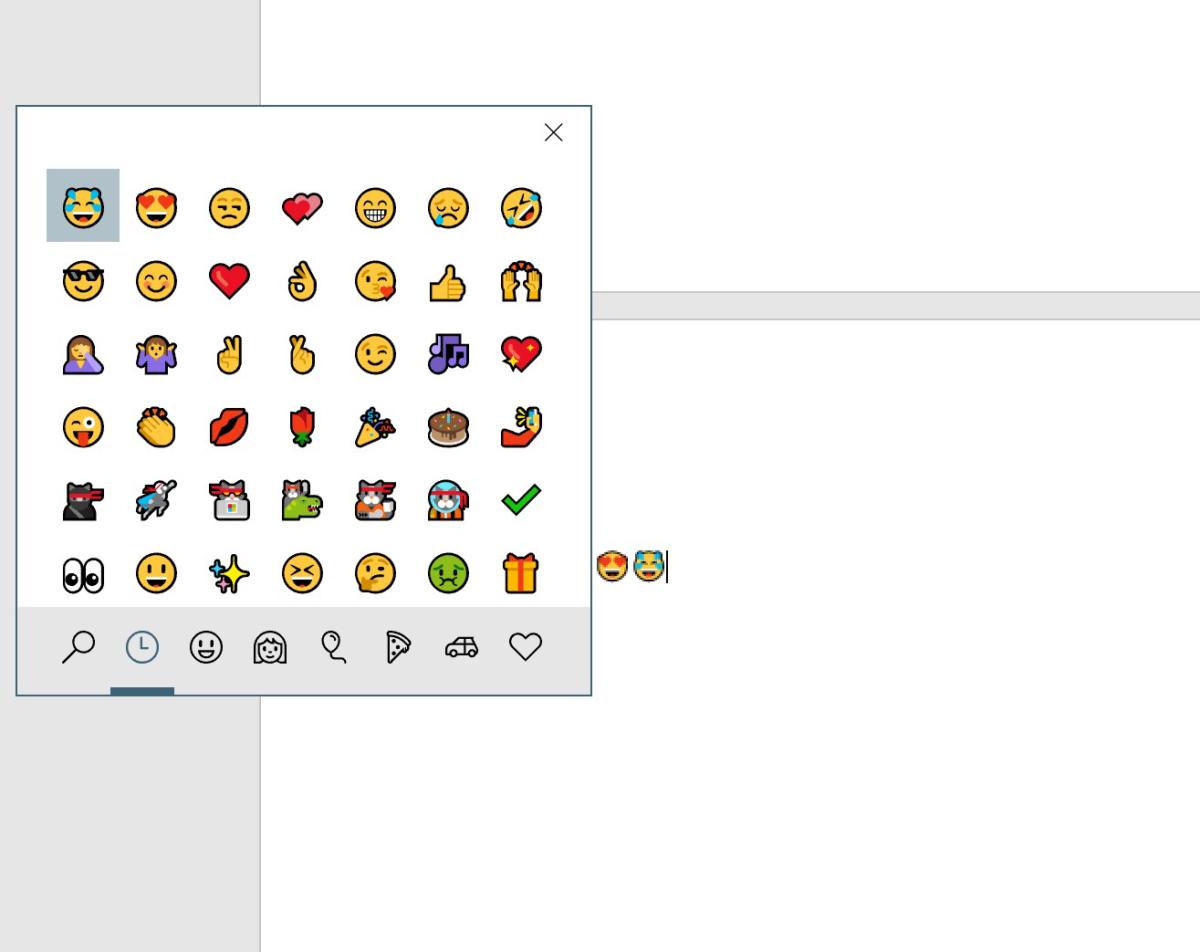 Click the WIN + . shortcut, and the small emoji keyboard appears.
There, you'll find the standard range of emoji, from people to food to sports, plus Microsoft-specific emoji like the ninjacat. You can navigate among the various "tabs" or categories of emoji via the Tab key, and touch or mouse to the one you'd like, or use the arrow keys. The Enter key selects the proper emoji.
There's one catch: Somewhat inexplicably, you can enter only one emoji at a time. After you enter your emoji, the keyboard disappears. That means, of course, that if you want to really emphasize a point—😢😢😢—for example, you'll have to re-invoke the keyboard three separate times. Unfortunately, the emoji keyboard isn't a true, draggable window, either—it remains in place.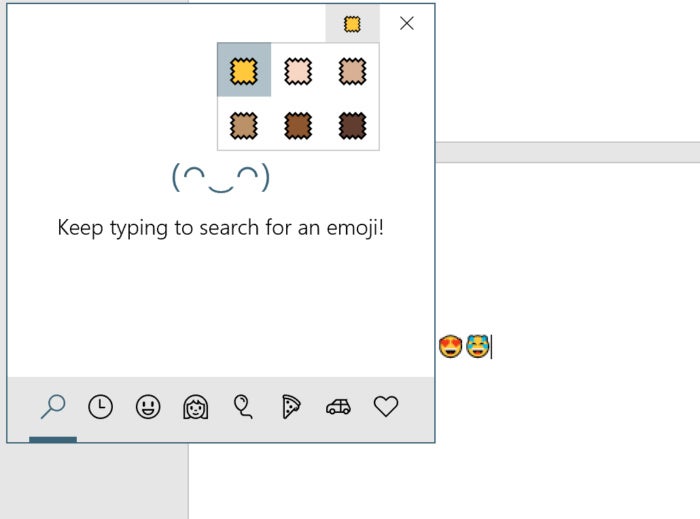 This small option allows you to set the skin tone of the various emoji.
There's one other option you should know about: On the very first tab of the emoji keyboard (and only that tab, for now) there's a small "swatch" of what looks like fabric to the upper right, near the 'X' icon to close the emoji window. The swatch represents a global adjustment for the skin tone for each emoji, which you may vary as you choose.
If there's any downside to Microsoft's emoji window, it's that developers have already coded in solutions to fix the issue. If you post something to Facebook, or use the Web app that Twitter provides, each service will present you with a small emoji icon to add whatever emoji you'd like, regardless of whether you have the Fall Creators Update.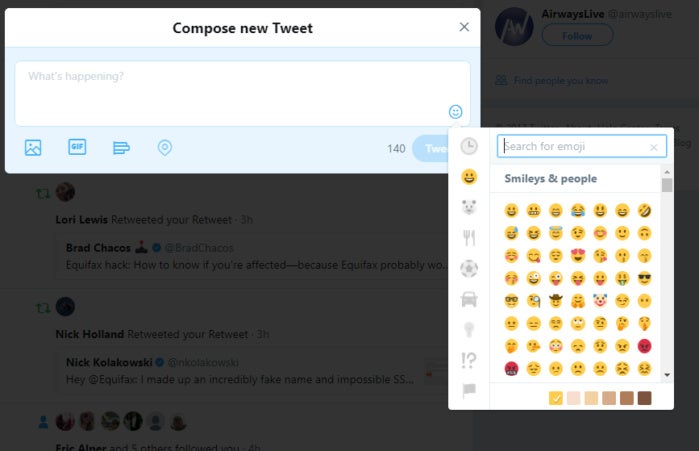 Some developers have already taken action to add emoji.
That's not the case for all apps, though. And Microsoft's own—Word, PowerPoint, Mail, and others—lack the capabilities that the new emoji keyboard adds. Once the new emoji keyboard drops with the Fall Creators Update, that will be cause for 🙌🎉🥂!