How fast is USB 3.0 really?
Now that USB 3.0 is found on (almost) every new Mac, the Macworld Lab decided to put its real-world speed to the test, especially compared with FireWire 800 and Thunderbolt.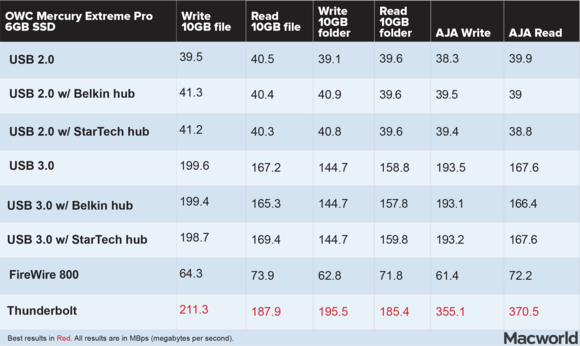 FireWire 800 results were flat compared to the hard-drive tests except for the 10GB folder write test: At 62.8 MBps, it was 7.7 MBps faster than it was with the spinning drive. Results were much faster than USB 2.0, but could not keep up with USB 3.0, which was always at least twice as fast as FireWire 800, and in the case of our 10GB file and Aja Write tests, USB 3.0 was three times as fast as FireWire 800.
Thunderbolt was much faster on these SSD tests than it was with the hard drive, and it was faster than USB 3.0 in all six tasks, though to varying degrees. It was 35 percent faster than USB 3.0 at writing our 10GB folder of files, 17 percent faster at reading those files, 14 percent faster at reading our large 10GB file, and a scant 6 percent faster at writing that file. Aja System Test showed more differences, though. The Thunderbolt-connected drive posted a write score of 355 MBps and a read score of 370 MBps, as compared to the 193.2 MBps write and 167.6 MBps read scores USB 3.0 posted using Aja System Test.
What does it all mean?
While you won't see a tenfold increase in the transfer speed from USB 2.0 to USB 3.0 in real-world use, USB 3.0 is fast--about three times faster than USB 2.0 with a spinning hard drive, and three to five times faster with SSD. And using a hub doesn't impact speeds, even with other (and slower) peripherals attached. USB 3.0 is also faster than FireWire 800, and it stacks up favorably against Thunderbolt. Also, depending on the task and the drives used, it can be just as fast Intel's speedy connection. When you remove the drive-speed bottleneck (by using an SSD), however, Thunderbolt can trump USB 3.0 easily.
Previous Page 1 2 3