iPhone 6s Live Photos turn dead-flat on Dropbox, Flickr and Google Photos
Popular photo storage apps do not support Live Photos, so you'll need to enable iCloud Photo Library to back them up in the cloud. Here's why that's a big problem.
iCloud Photo Library is not picture perfect
Ok, so I have to start using iCloud Photo Library. That's all fine, except it sucks having your photos and video in one service (Dropbox, Flickr) and your Live Photos in another. Plus, iCloud doesn't necessarily have the best reputation when it comes to keeping private photos private.
Then there's the fact that iCloud Photo Library doesn't really back up photos, it simply "syncs" them across devices. If you delete or edit a photo on your iPhone, that pic will also be deleted from the Photos app on your Mac, for example. This means that you will still be freaking out every time your toddler nephew starts playing around with your iPad, out of fear that he might accidentally delete a photo. Don't you have it backed up? Some distant relative will certainly ask, and then you'll have to explain the weird logic behind iCloud Photo Library.
Sure, you can "optimize" the photos on your device to save space, and deleted photo from the past month can be restored from the Recently Deleted album. But to me, this iCloud syncing kind of defeats the whole point of photo storage: freeing up space on your iPhone so you can store more memories and have the old ones safely tucked away in a vault somewhere in the cloud. That's one of the key features behind Dropbox's Carousel app. It's called "Free Up iPhone Space." When Apple launched Live Photos, however, Dropbox had to modify the feature "to prevent deletion of Live Photos." Oops.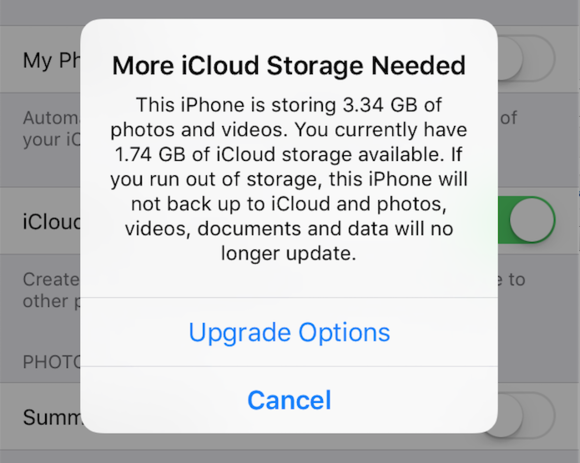 Nope.
Most importantly, iCloud storage is not free. Apple gives you the first 5GB for free, and each Live Photo that I've taken so far takes up about 3MB of space. Even if you haven't already used your free 5GB for iCloud backups, that free storage will run out after taking fewer than 1,700 Live Photos. And I live with a cat, so I will undoubtedly need to more Live Photos storage in my lifetime. After I reach my 5GB limit, I'll have to start paying for iCloud storage ($1 a month for 50GB) or simply say goodbye to all my Live Photos.
I guess I could also manually backup Live Photos to the Photos app on my Mac, but that's just storing them locally, not on the cloud. So every time I want to show friends a Live Photo of my cat eating a flower, I'll have to lug my around my MacBook. Not something I'd called mobile-friendly.