Nvidia's cloud gaming service takes on Sony's PlayStation Now
Nvidia's GRID cloud gaming service will be available free, but only to Shield tablet and handheld game console users in the US.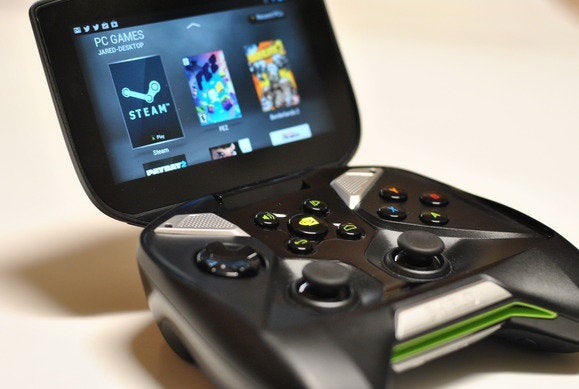 Nvidia's online game-streaming service will launch next week after a year-long beta testing period, but it will only be available to owners of the company's Shield tablet and handheld gaming console.
The Nvidia GRID cloud gaming service will first be available in the U.S. as a free preview and the company is not saying whether it will become a paid service. It could launch in Europe as early as next month.
Nvidia's service will compete with Sony's PlayStation Now game-streaming service, which is still in beta and works with Sony's TVs and gaming consoles. But Nvidia is promising a better gaming experience, with titles streaming out at 720p resolution and 60 frames per second.
The service will start with 20 streaming games, including "Batman: Arkham City" and "Borderlands 2,", with more titles added later. Nvidia hopes the service will attract more buyers to the Shield tablet, which starts at US$299 with 16GB of storage. The tablet will be upgraded to Android 5.0 in coming weeks.
The streaming service takes advantage of specific hardware and graphics features in Shield devices. It won't work on mobile devices from other companies, though that could change in the future, said Andrew Fear, senior product manager for GRID cloud computing at Nvidia.
"There's technically nothing stopping it from working on any device," Fear said.
The service initially won't work on PCs either. But Nvidia could extend the service to desktops and laptops with its GeForce graphics cards.
Nvidia is best known for its graphics cards, but started selling Shield devices -- which use its graphics and mobile CPU chipsets -- to expand its presence in gaming. Nvidia's streaming service is based on PC gaming, which the company says is better than console gaming due to the ability to easily change and upgrade hardware. Nvidia also competes with Advanced Micro Devices, whose graphics technologies are used in PCs and all the popular gaming consoles.
Streaming games will load in a matter of seconds and the service runs off servers powered by Amazon's cloud infrastructure. Fear said the infrastructure is already in place to deploy the service in the Asia-Pacific region, but he did not share specific launch dates.
"We've been working to deploy thousands of servers in Amazon's cloud," Fear said. "We're leveraging that infrastructure to deploy this."
The online gaming service was in beta for more than a year through servers in California, with users connected worldwide. After it was clear that users far away from California experienced no latency, Nvidia decided the servers were ready to take on more gamers and that there was sufficient bandwidth to handle the service.