AMD Radeon RX 460 review: An affordable graphics card with bleeding-edge tech
The AMD Radeon RX 460 graphics card is built for e-sports and low-power systems.
Not everybody needs a $600 graphics card. Heck, not everybody needs a $200 graphics card.
While gorgeous games grab the biggest headlines, the games that draw massive crowds and televised tournaments run on far more modest hardware. Yes, I'm talking about e-sports. League of Legends, Counter-Strike: Global Offensive, Dota 2, and even Overwatch are eating the gaming world, and a large part of their success is their ability to run on pretty much any hardware you throw at it—even dirt-cheap PCs powered by AMD APUs.
But while gaming on integrated graphics is definitely possible, it requires visual compromise. Hitting buttery-smooth 60 frames per second often requires dialing down the resolution or graphics settings even in less-strenuous DirectX 9-based e-sports games. That's where AMD's new Radeon RX 460 ($109 and up) comes in.
AMD's positioning the Radeon RX 460 as an affordable solution for e-sports gamers who want to blow past not just 60 frames per second, but 90 fps with High settings at 1080p resolution without breaking the bank. That's one hell of a step up! It's no coincidence that this card is launching the very same day that Dota 2's mammoth $20 million The International 2016 tournament kicks off.
What's more, the RX 460's unique blend of features could make it a viable alternative to the legendary GTX 750 Ti in home theater PCs or power-constrained computers.
Can the reality live up to the hype? Let's dig in.
Meet the Radeon RX 460
As a graphics card devoted to e-sports and entry-level gaming, the Radeon RX 460 sports much more modest internals than the Radeon RX 480 ($200 and up on Newegg) or even the Radeon RX 470 ($180 and up on Newegg).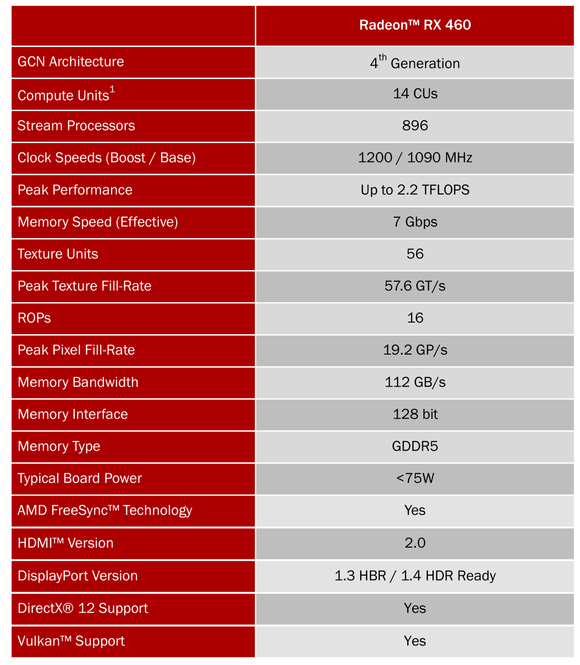 The Radeon RX 470's reference specifications.
The RX 460 features a severely cut-down version of AMD's new 14nm Polaris GPU, with half as many ROPs and less than half as many compute units and stream processors as the RX 470. The most affordable model packs 2GB of RAM—though 4GB versions will also be available—over a smaller 128-bit memory bus.
This won't be a bridge burner, in other words. But the conservative design not only allows AMD and its partners to offer the Radeon RX 460 at an affordable price, it also reduced the TDP of the reference version to a mere 75 watts—low enough that it can be powered solely by your motherboard's PCIe slot, without any extra power connectors whatsoever. That makes the RX 460 a potentially compelling option as an upgrade for prebuilt big box machines (from Dell, HP, et cetera) that lack extra power connectors. It could also power a kick-ass small form-factor home-theater PC, especially since the Radeon RX 460 supports HDMI 2.0b and high-dynamic range video.