AMD Radeon RX 460 review: An affordable graphics card with bleeding-edge tech
The AMD Radeon RX 460 graphics card is built for e-sports and low-power systems.
In theory, at least. Like the RX 470—and very unlike the RX 480—the Radeon RX 460 is launching with a full array of customized partner cards rather than reference models alone, with a wide array of overclocks, customized coolers, and (sometimes) six-pin power connectors. Much of the initial batch of available RX 460s seems to lean into providing a better e-sports experience rather than fulfilling the needs of low-power machines.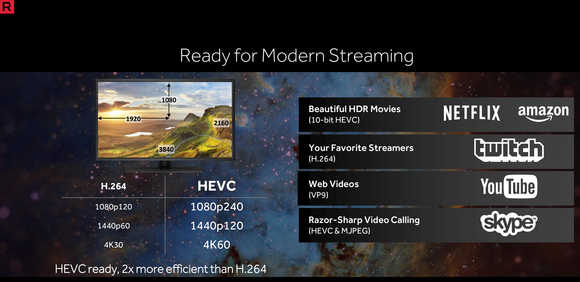 The Polaris GPU's encoding capabilities.
Another one of the Polaris GPU's new tricks lends itself well to e-sports, actually. The RX 460 (and its pricier relatives) support H.264 video streaming at up to 120 fps at 1080p, which means you'll be able to stream your games to Twitch easily.
AMD sent us an XFX Radeon RX 460 for evaluation ($150 for this 4GB model on Newegg; a $120, 2GB version is also available on Newegg). It's a traditional full-length, dual-slot graphics card as opposed to the Radeon Nano-esque RX 460 reference design, complete with a six-pin power connector to help fuel its modest 20Hz overclock, to 1,220MHz. Notably, that's a true on-card overclock—you don't need to install any extra software to enable it, unlike with some graphics cards from other manufacturers.
XFX put the extra length to good use. The XFX Radeon RX 460 features a pair of small mid-sized fans sitting atop a basic aluminum heatsink. Those fans have some nifty tricks up their sleeves, too. They speed up or slow down based on load, all the way down to going completely idle (and silent) when you aren't gaming. They're also held in place by brackets that can be squeezed and released using your fingers alone, making it dead-simple to replace the fans if one dies—though you'll still need to deal with the wiring connecting the fan to the graphics card.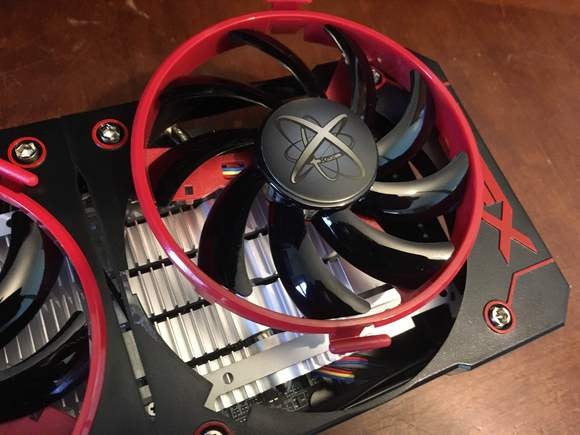 The XFX Radeon RX 460's fans can easily be popped out without extra tools. Credit: Brad Chacos
Beyond the HDMI 2.0b port, you'll also find solitary DVI-D and DisplayPort 1.4 connections, the latter of which supports resolutions far beyond what you'll realistically use this card for in a gaming PC. The 4K support may come in handy with a home theater PC, however.
As a Polaris-based card, the XFX Radeon RX 460 also delivers features like Frame Rate Target Control, H.265 encoding and decoding, the in-driver Radeon WattMan overclocking tool, glorious FreeSync support, and dedicated asynchronous shader hardware that can improve performance in next-gen, "close to the metal" DirectX 12 and Vulkan gaming APIs.
Previous Page 1 2 3 4 5 6 7 8 Next Page