AMD's FreeSync 2 makes cutting-edge HDR monitors even more glorious
All about the pixels.
AMD's FreeSync 2 makes Low Framerate Compensation technology mandatory.
FreeSync 2 monitors will be damn good monitors, it sounds like—premium options that more closely rival Nvidia's costly G-Sync panels than the masses of standard FreeSync displays.
Devils and details
AMD already has testing methodology in place to ensure panels meet those stringent requirements. As opposed to the wide-open world of standard FreeSync support, if a monitor fails to hit those high marks, it will not receive FreeSync 2 certification. In fact, AMD senior fellow architect David Glen says he expects the vast majority of FreeSync monitors will not be FreeSync 2.
Testing and formal certifications aren't cheap processes, and the FreeSync 2 technology leverages proprietary tech rather than an open standard, akin to the workaround that helped AMD get FreeSync working over HDMI. When I asked Glen whether AMD planned on charging vendors for FreeSync 2 certification, he responded that the company was still looking into potential monetization plans.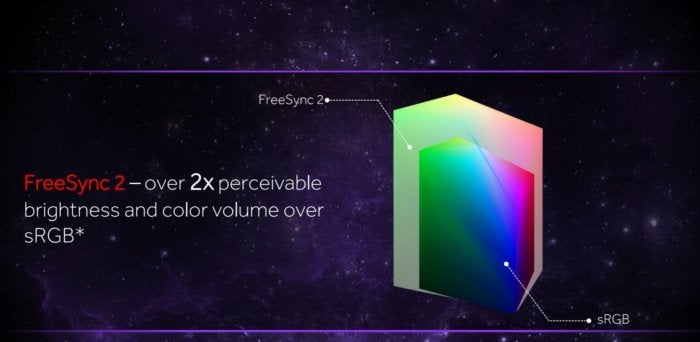 But to digress for a second, if FreeSync 2 became a "premium upgrade" of sorts similar to how Nvidia views G-Sync, that would open the door just a bit wider for Nvidia to support basic FreeSync with its GeForce graphics cards, granting Team Green gamers access to delectable variable refresh rate displays at more affordable prices. That would be great for gamers (though it doesn't sound like Nvidia's hot to the idea).
Back to FreeSync 2!
Any graphics card that currently supports FreeSync will also play nice with FreeSync 2 via a future driver update. Individual games will need to explicitly support the FreeSync 2 API to take advantage of its feature, Glen said. That's a bummer, but AMD hopes that the widespread industry support for FreeSync will encourage developers to embrace FreeSync 2. When asked whether there was any way for AMD to force games that don't support the API to support FreeSync 2's basic features, Glen played coy with a "no comment" but admitted that would indeed be an interesting ability.
So when can we expect to see the first FreeSync 2 displays? Glen hopes it'll be in the first half of 2017, though he wouldn't go so far as to promise it. AMD's already working with multiple panel vendors on multiple projects, so hopefully this hot new tech shows up sooner rather than later. FreeSync 2 monitors sound pretty badass—though because the primary features are tied to maximizing the potential of cutting-edge HDR displays, the first wave will no doubt cost many, many pretty pennies.