AMD's Radeon Software Crimson ReLive debuts with features galore
Highlights include impressive new rivals to Shadowplay and FRAPS.
Upgrade Advisor
Here's a new feature that's both handy and a wee bit odd-feeling.
Radeon Settings includes individual profiles for all of your games in the gaming section, where you can tweak specific settings, activate game-specific overclocking, and more. That's nothing new. What is new is the Upgrade Advisor, which compares your PC's configuration against the specs recommended by the game's developer. If your PC isn't up to the task, Upgrade Advisor lets you know, or it tosses up a green checkmark if you're ready to rock. Pretty cool, right?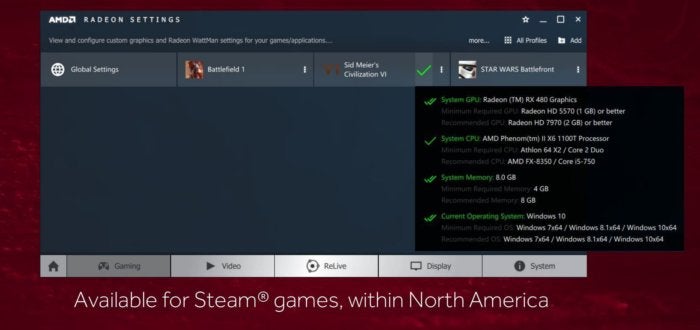 AMD
But if your hardware isn't up to snuff Upgrade Advisor will surface a link to an Amazon page where you can buy a better, beefier Radeon graphics card. It's useful enough, I guess, but Amazon links for new graphics cards in your graphics card software just feels a bit pushy. On the bright side, Radeon Crimson ReLive isn't locked behind mandatory registration like Nvidia's GeForce Experience, so maybe Amazon links aren't so bad.
One more caveat: Upgrade Advisor only works with Steam games at launch. Sorry Battlefield 1 fans.
The rest
As usual, the annual refresh includes numerous smaller updates as well.
The Radeon Software installer has been updated with a new look and the ability to force a clean install.
The Radeon XConnect feature for external graphics cards now supports Thunderbolt-certified laptops and all-in-ones.
Polaris-based graphics cards pick up VP9 decode acceleration.
A new user feedback section of Radeon Crimson ReLive gives you the ability to ask for new features and upvote which features you'd like to see added in future updates.
AMD's Linux driver now works with FreeSync monitors and all graphics cards based on the Graphics Core Next architecture (Read: Radeon 7000-series and up).
Skype calls are handled more efficiently on APUs now. You may also find slight performance increases in some games, but nothing mind-blowing.
AMD
Radeon Crimson ReLive also embraces developers and pro users. We won't dive into those details much, but developers will find new goodies in AMD's LiquidVR and GPUOpen, including multi-resolution rendering and physics-based audio for virtual reality and an upgraded version of the TressFX technology that makes Lara Croft's hair look so lustrous while she's busy raiding tombs.
Users of the separate Radeon Pro driver, meanwhile, will find a handy "one driver for all" driver for virtualized desktops and virtualization servers (with no licensing fees) starting with January's enterprise update, enhanced game engine integration to help drive down development costs, consistent and regular updates on the fourth Thursday of every quarter (complete with prioritized support), a Radeon Pro hybrid Linux driver that combines the open-source core Linux Driver and AMD's proprietary Pro technologies, and more.
Previous Page 1 2 3 4 5 Next Page