Canon aims to make impact in 3D printer market
Canon is talking up a 3D printer it has in development, but it could be two years -- or more -- before it's ready.

Prototype parts: These cogs were printed in resin by a prototype Canon 3D printer that the company says delivers a better surface finish than existing printers. The smaller cog has a radius of approximately 20 mm. Credit: Peter Sayer
If Canon were to use its prototype 3D printer to print components for production models, Rep-Rap style, customers might see it a little faster.
Canon claims, after all, that its new 3D printing technology will be good enough for rapid manufacturing, in addition to the rapid prototyping for which many businesses already use 3D printing.
However, while the company showed off samples printed with the prototype at Canon Expo, an event for its customers in Paris this week, the machine itself was a no-show. It's still somewhere in Japan, staff said, and is probably at least two years from commercialization.
Although it doesn't yet make its own 3D printers, Canon already sells them: Two years ago it began reselling models from 3D Systems in Japan, entering the European market in February this year.
3D Systems holds key patents on a number of printing technologies. The most familiar of those technologies, and the one most commonly used in hobbyist printers, is fused deposition printing, in which a thermoplastic material is heated until it melts and then piped like cake icing, layer on top of layer, until the model is complete. Some of the 3D Systems printers Canon sells for rapid prototyping work in this way.
Canon drew a large crowd at its event with demonstrations of two of the 3D Systems printers it resells that use other printing technologies. One involves sprinkling powdered material onto a platform, layer by layer, melting parts of it with a laser so they solidify and attach themselves to the previous layer as they cool, the other builds the model in an ever-deepening bath of molten polymer, curing the layer on the surface with an ultraviolet light in order to solidify it. The finished models are easily removed from the powder or liquid for cleaning.
Reselling another company's printers is not enough though, according to Canon Europe's 3D printer marketing manager, Ryan Milne.
"Customers want to see we are bringing our own technology to market," he said.
That's where Canon's prototype comes in, although it could be two years or more before it goes on sale.
"When it comes to market, we want it to make an impact," Milne said. Don't expect to see it in your local hobby store, though: It will definitely be aimed at professionals and industrial users, he said.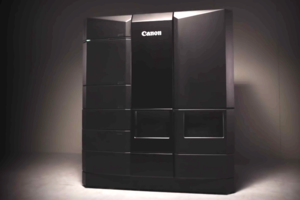 An image of a prototype 3D printer being developed by Canon, captured from a company promotional video released in October 2015. Credit: Canon