Drift Compass review: Inexpensive, wearable camera for everyday life underwhelms
This camera's attempt to be inconspicuous is marred by usability and image quality issues.
Drift Life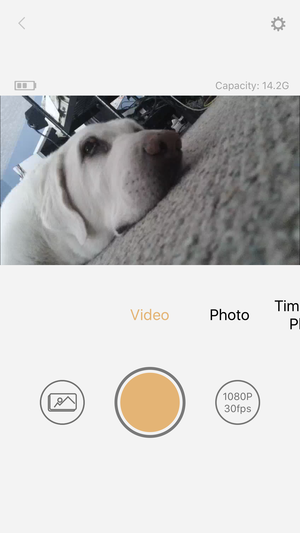 Compass works best when paired with the Drift Life app for iPhone, which offers comprehensive control over all of the camera features.
Controlling the Compass was likewise an exercise in frustration. The LED changes color when switching between modes—green for video, yellow for photos, purple for time-lapse—and blinks while shooting, but it's hard to see in direct sunlight. To start or stop capture, you double-tap a finger on the percussion inductive sensor located between the camera lens and mode button.
Unfortunately, this method wasn't consistently reliable and worse yet, there's no audible feedback when it actually does work. If you take a lot of selfies, it becomes even more frustrating, because the Compass failed to recognize the double-tap of my thumb every single time.
You can adjust the tap sensitivity using Drift Life, a free iOS or Android app that offers complete control over the Compass including shutter start/stop, and also acts as a viewfinder so you can see what's being shot. The problem is, this requires logging onto the device's onboard Wi-Fi, so there's a good deal of fumbling around to get set up, at which point you'd be better off just using the iPhone camera to begin with.
Drift Life can also be used to control livestreaming from the Compass, in which case the camera uses an available Wi-Fi or cellular connection from the connected iPhone; the quality and framerate was quite poor, and it's much easier to initiate a Facebook Live session anyway.
The optional $40 Compass Mount Pack adds a magnetic skin case for the camera, along with a variety of mounting brackets.
Battery life was respectable; about two hours of 1080p HD video recording at 30fps, four hours for photos, and roughly 12 hours in time-lapse mode when set to one-minute intervals.
Bottom line
Drift Compass is much better in concept than execution. Ultimately it's just easier to pull the iPhone out of your pocket rather than fumble around trying to pair it with what winds up being a lower-quality, less-powerful camera.
Image samples
Drift Compass takes decent daytime photos at up to 12-megapixel resolution, but fails to accurately reproduce color and contrast, especially indoors. Click the image to see the full-sized version.