How to print multiple images on a single page
Several handy printing techniques save you ink, paper, and time.
Until you print your photos or click Cancel, you'll spot an icon in your Source list called Printing. This lets you do other iPhoto work and then return to your print job by clicking the Printing icon. You can also add new photos to the printout by dragging their thumbnails onto the Printing icon. When you're ready, click the Print button near the toolbar and you'll see a standard Print dialog which lets you choose a printer, number of copies, and so on. Click Print and you're done.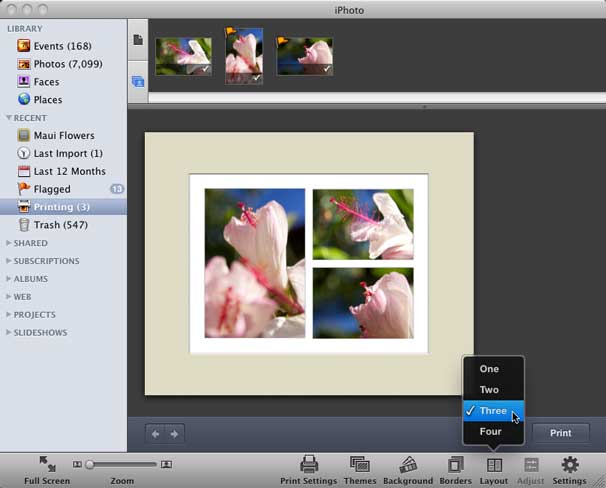 By clicking Customize, you'll enter iPhoto's mini page-layout view, shown here. To print more than one photo per page, use the Layout button.
Photoshop Elements
Adobe Photoshop Elements uses the Picture Package and Contact Sheet plug-ins that used to come with Photoshop CS (more on that later). Open an image to print and choose File -> Picture Package. In the resulting dialog, pick a paper size and layout from the pop-up menus. Elements immediately populates the preview placeholders with the same image, though you can change it by single-clicking any image and navigating to a new one using the resulting Open dialog.
When you're finished, click OK and Elements combines your images into a new document at the appropriate sizes. Choose File -> Print and in the resulting dialog, choose your printer, paper size, and print size from the pop-up menus.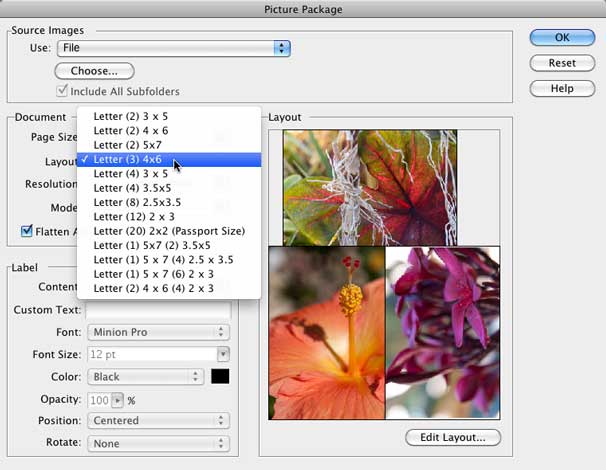 Elements' Picture Package dialog includes many useful layout options, though you can always create your own by clicking the Edit Layout button.
Adobe Bridge
Adobe Bridge is an image-browsing and organization powerhouse that's been shipping with Photoshop for years (it used to come with Elements, too). While it would be tough to use Bridge to produce prints of a certain size, it's perfect for creating contact sheets.
Once you've launched Bridge, navigate to the images you want to print using the Folder panel on the left, and then select individual images by Shift or Command-clicking them in the Preview panel in the center. (This description assumes the default Filmstrip workspace.) At the top of the window, click the Output button to cause the mile-long Output panel to open on the right. Click the PDF button at the top and then choose a template from the pop-up menu. To see a preview of your PDF document, click the Refresh Preview button near the top of the Output panel. While the template menu doesn't give you many options, you can tweak the various settings to create a contact sheet of your very own.