How to use printer profiles for color fidelity
Lesa Snider gives us the lowdown on printer profiles and how to use them for accurate color printing.
• Colorants (color-producing substances). The printers you're likely to encounter include inkjet and laser printers, commercial offset presses, and digital presses. Some printers, like commercial offset presses, use pigment-based inks to create color. Others, like inkjets, use dye-based inks, and still others, like laser printers and digital presses (which are like fancy laser printers), use toners.
• Dot pattern. All the printers mentioned above use a pattern of dots to reproduce your images. Commercial offset presses use halftone dots that are commonly made from circles and diamonds.
• Paper type. Each printer can also utilize a wide range of paper. For example, you can print on plain paper, matte, super high-quality glossy paper (which yields a much higher-quality print), and so on. If you want your inkjet printer to reproduce its full gamut of color, you need to use a specially coated paper made to work with dye-based inks.
To account for all these variations, you can use profiles to tell the program you're using exactly which colorants and papers you want to print with.
Locating and installing printer profiles
Most of the time, you can download profiles right from the printer or paper manufacturer's Website, although you might have to hunt for them. You can also do a Google search including your printer make and model, such as "Epson R3000 profiles". The profiles you get from big companies, such as Epson, come with an installer, too. You can also search for paper-specific profiles, commonly referred to as paper or output profiles. For example, Epson makes profiles to match almost every kind of paper it sells.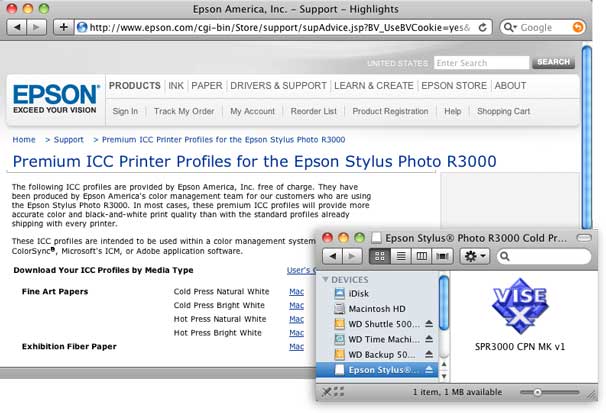 The more closely a profile matches your printing conditions, the more accurate and useful it is. Here you can see the paper-specific profiles available for Epson's Stylus Photo R3000.
Printing with profiles
Once you've installed a profile, you can access it within your Mac's Print dialog box (though you may need to restart the program to get the new profile to show up). You also need to instruct the program you're using to manage the color itself, instead of letting the printer do it. For example, to use a printer profile with iPhoto, choose the photo you want to print and then in the final print dialog box—the standard Mac OS X print dialog box, not iPhoto's print settings dialog box—choose Color Matching from the pop-up menu in the middle and turn on ColorSync. When you do, a Profile pop-up menu appears underneath.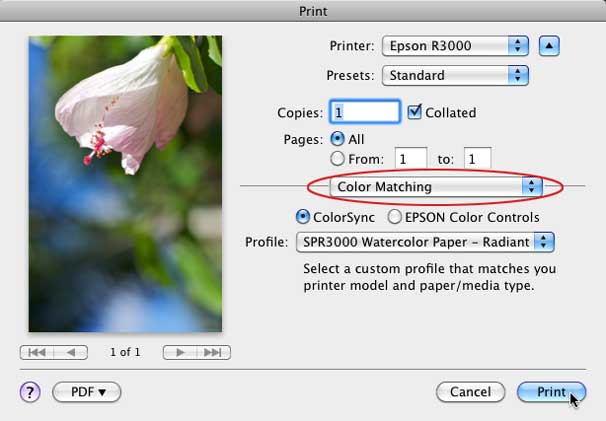 You can access printer profiles within any program that uses a standard Mac OS X print dialog box including iPhoto, GraphicConverter, and others. The trick is to turn on ColorSync, as shown here.