Intel kicks Kaby Lake into high gear with more than 40 chips and Optane support
Support for high-speed Optane memory could be Intel's edge over AMD's impressive Ryzen chips.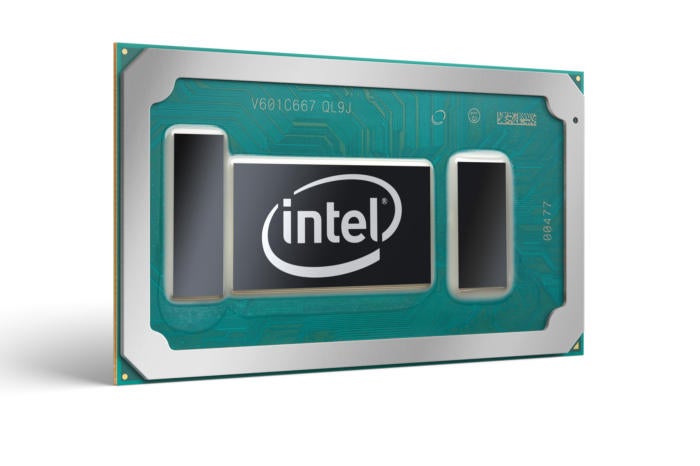 After launching its first dual-core "Kaby Lake" chips for ultrathin notebooks in August, the floodgates have opened. At CES in Las Vegas on Tuesday, Intel announced it's now shipping 40 different Kaby Lake quad-core processors, for products ranging from tiny Compute Sticks to performance laptops and desktop PCs.
With the first Kaby Lake reviews already in the can, you might think that that's all one can say about the new chips. But Intel executives say that—whoa!—the new processors will also support Intel's revolutionary 3D XPoint or "Optane" memory, a super-SSD "that will make a system faster with very limited tradeoffs from a system perspective," according to Karen Regis, director of mobile platform marketing at Intel.
From a performance standpoint, Intel expects the new chips to perform 20 percent better than the old quad-core Broadwell Core chips of 2013, using the standard SYSmark 2014 benchmark. Video, though, remains one of Kaby Lake's strengths. The integrated hardware video accelerator within Kaby Lake that Intel discussed previously will boost 4K video creation capabilities by up to 65 percent compared to the Broadwell chips, and playback will be accelerated as well.
Optane adds a new, unexpected wrinkle. Who's going to build Optane memory? What will it cost? What performance benefits will it actually deliver? Should I hold off on buying memory, and save up for Optane instead? All these details remain tantalizingly just out of reach. And, of course, the other major question is about the effect of AMD's Ryzen: How, if at all, will it shake up Intel's pricing strategy?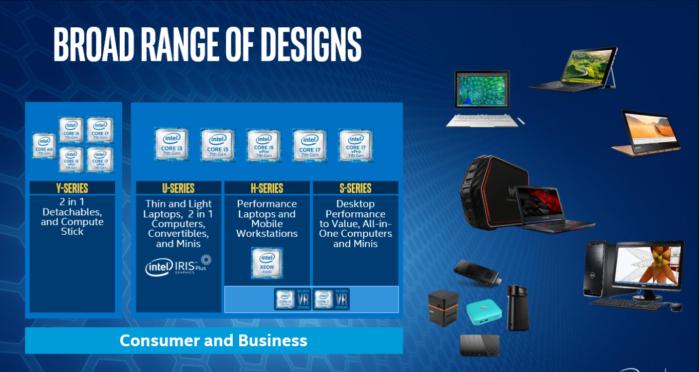 Intel is launching more than 40 of its "Kaby Lake" Core chips, for tiny compute sticks all the way up to performance desktops.
Speeds and feeds
To recap: in August, Intel launched the dual-core 4.5-watt Y-series and 15W U-series Kaby Lake chips, for ultra-low-power 2-in-1s, 2-in-1 convertibles, and ultrabook clamshell PCs. Those families also now include a 15W vPro U-series version for corporate PCs and a 28W U-series chip.
Today's launch concerns the new quad-core Kaby Lake chips, though, which include:
Dual- and quad-core H-series chips (45W) for both large clamshells and VR-capable notebooks. Unlocked versions are included, as are vPro derivatives. Base clock speeds range from 2.5GHz to 3.1GHz, with turbo-boosted speeds up to 4.1GHz. Prices range from $225 to $568 in 1,000-unit lots; expect retail prices to be a bit higher.
Dual- and quad-core S-series chips (35W, 65W, 95W) for mainstream desktop tower PCs, including vPro. The 35W chips can be also used for all-in-ones and mini PCs, while the 65W and 95W series are designed for enthusiast PCs, including unlocked versions. Base clock speeds range from 2.4GHz to 4.2GHz, with boosted clocks up to 4.5GHz. Prices range from $117 to $339.
Quad-core mobile Xeon chips for mobile workstations. Base clock speeds range from 3GHz to 3.1GHz, with boosted clocks up to 4.2GHz.
Eight new chipsets: five (the Q270, Q250, Z270, H270 and B250) for desktops, and three (the CM238, HM175 and QM175) for mobile PCs. All of the 200-series chips are Optane-ready, and they include four extra PCI Express lanes.